April 10, 2015
Remembering Arny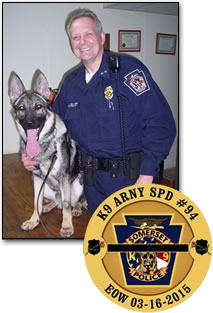 Somerset Borough Police K9 Arny succumbed to a very aggressive form of cancer on March 16, 2015. Arny, commonly referred to as "Somerset's Dog", provided excellent and faithful protection and service to the Somerset Community and beyond for nearly ten years.
In acknowledgment of the respect and affection shown to Arny by the community, the Somerset Borough Police Department wishes to invite the community to attend a memorial service for Arny on
Sunday, April 26, 2015 at 3:00 pm*
Somerset Area High School Auditorium
645 S. Columbia Avenue Somerset, Pennsylvania
* Preceding the memorial service, a police and police K9 procession will begin at 3:00 pm and proceed to the Auditorium where the memorial service will then commence.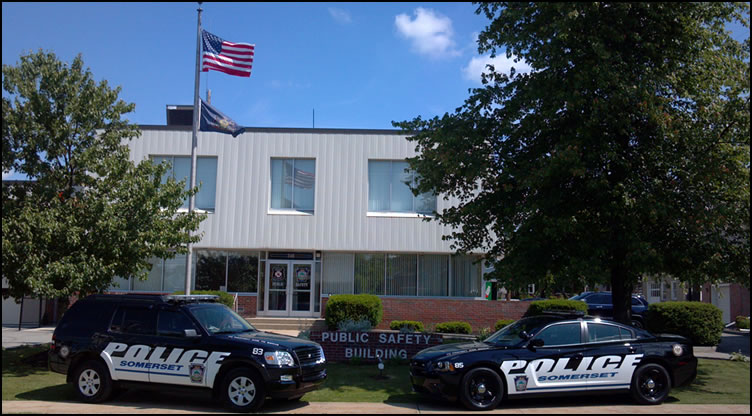 LATEST NEWS |
Fraternal Order of Eagles, Aerie 1801 Presents Gift
 The Fraternal Order of Eagles, Aerie 1801, recently presented the Somerset Borough Police Department with a gift of $4,500.00 toward the purchase of video cameras for use by the department's officers during the normal course of their duties. Read More >>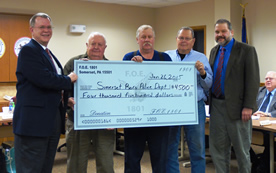 DEPARTMENT UPDATES |
Staff learns how to deal with disruptive patients
Somerset Borough police Sgt. Stephen Borosky on Wednesday taught nurses and other staff of the hospital's emergency and behavior health departments how to handle disruptive patients.
SPD Congratulates its
Newest CIT Grad
Chief Randy Cox congratulates Officer Brett Stanga upon his graduation from CIT Training. Chief Cox was a speaker at the graduation ceremony.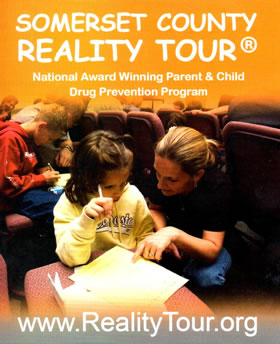 Flyer .JPG Front - Back
Flyer .PDF
| | | |
| --- | --- | --- |
| | | |
| | The Somerset Area Business Person's Guide to Robbery & Suspicious Incidents is available at the Police Station. | |

NAR-ANON FAMILY GROUPS
We are writing in an effort to increase awareness of Nar-Anon Family Groups. Our program may be beneficial for those family members of addicts. We know the disease of addiction can affect the family members and friends of addicts, physically, emotionally and spiritually. Nar-Anon provides support and hope to those in despair because of a relative or friend's addiction.
 
Nar-Anon Family Groups is a twelve step fellowship that offers a recovery program for those affected by someone's addiction. The only requirement for membership is that there be a problem of addiction in a relative or friend. In our group meetings, we share our experience, strength and hope to help each other and ourselves. 
 
It is devastating for a parent, spouse, sibling or friend to learn that their loved one is an addict. In Nar-Anon, we have found that the consequences of an addict's drug use may include an arrest, conviction, jail time, or prison sentence. With the support of others who have gone through the pain of watching a child, spouse, other family member or friend destroy their lives with drugs, we find the strength and courage to stand aside and let the addict face those consequences.
 
Nar-Anon Family Groups bring renewed hope and confidence through the Nar-Anon selfhelp program to thousands of people whose lives have been adversely impacted by another's addiction.
 Our first meeting will be held on Monday, April 20 from 6:00-7:30pm at the Freedom In Christ Community Church located at 117 W 1st Street, Somerset, PA  15501 (beside Linda's Dance Studio).  Our meetings will be held every Monday, same time and place thereafter.
Please contact us for more information. We are available to answer questions or concerns. Thank you for your interest and assistance in providing this information to family members and friends of addicts.

Sincerely,
Kris Kreger
StillwatersNAFSG@gmail.com