Chief Randy Cox Elected as Vice-Chairman of the
Pennsylvania Law Enforcement Accreditation Commission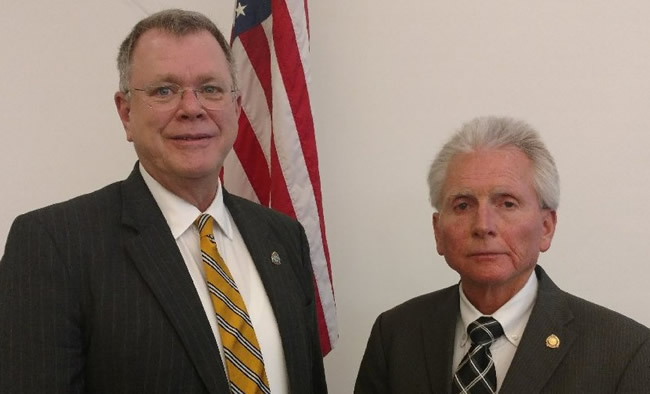 Chief Randy Cox, left, Chief James Adams, right

Chief Randy Cox of the Somerset Borough Police Department was recently elected as the Vice- Chairman of the Pennsylvania Law Enforcement Accreditation Commission (PLEAC) at the January 30, 2018 meeting of the commission. Chief Cox will serve with Chief James Adams of the Upper Allen Township Police Department, who was elected Chairman.
The Pennsylvania Chiefs of Police Association introduced the Pennsylvania Law Enforcement Accreditation Program to the Commonwealth in July 2001. Since then, over 300 agencies have enrolled and 117 agencies currently have attained accredited status. The Pennsylvania Law Enforcement Accreditation Program was designed and developed by professional law enforcement executives to provide a reasonable and cost effective plan for the professionalization of law enforcement agencies within the Commonwealth. The Somerset Borough Police has maintained its accredited status since 2010.
Accreditation is a progressive and time-proven way of helping institutions evaluate and improve their overall performance. The cornerstone of this strategy lies in the promulgation of standards containing a clear statement of professional objectives. Participating administrators then conduct a thorough analysis to determine how existing operations can be adapted to meet these objectives. When the procedures are in place, a team of independent professionals is assigned to verify that all applicable standards have been successfully implemented. The process culminates with a decision by the Commission that the agency is worthy of accreditation.
Chief Cox has been the chief of police in Somerset Borough since August 2004 when he assumed the position after serving as chief of police in Ligonier, Pennsylvania for fourteen years. Chief Cox is in his 41st year as a law enforcement officer. He is a graduate of Indiana University of Pennsylvania with Associate of Arts and Bachelor of Arts degrees and is also a graduate of the 204th Session of the FBI National Academy. He has been active in the area of law enforcement accreditation since its inception in Pennsylvania in 2001 and has served as a member of PLEAC since 2014, having been appointed by the Western Pennsylvania Chiefs of Police Association. He and his wife, Jan, reside in Somerset.
Posted 2-5-18