Somerset Borough Police Reaccredited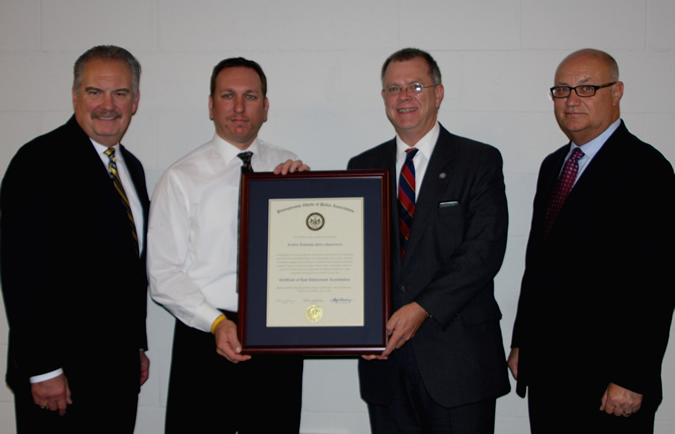 Somerset Borough Police were recently granted reaccreditation at a meeting of the Pennsylvania Law Enforcement Accreditation Commission. Pictured are (l-r) William Kelly, Chairman of the Commission and Chief of Police in Abbington Township; Somerset Police Sergeant Stephen Borosky, the department's Accreditation Manager; Somerset Police Chief Randy Cox; and PLEAC Coordinator Joseph Blackburn.
The Somerset Borough Police Department was recently awarded reaccreditation by the Pennsylvania Law Enforcement Accreditation Commission (PLEAC) at their meeting in the Harrisburg area on October 31, 2013. The department was initially accredited in 2010 and is required to undergo an assessment every three years in order to maintain its accredited status.
The department underwent a two-day assessment completed by a PLEAC assessment team in early September. As a result of that assessment the team prepared a report and recommended to the Commission that the department be reaccredited for another three year period. The Commission approved the recommendation unanimously. There are 135 PLEAC Standards that cover facets of the department's operation from the wording in the officers' oath to the procedures relating to vehicle pursuits, use of force, detention of prisoners, storage of evidence, etc. Virtually every aspect of the operation of the department and the actions of the officers are addressed. Further, many of the standards have subsections, so that in order to attain accredited status the department must show its compliance in 310 different areas.
Tangible benefits of accreditation include eligibility for reduced professional liability insurance rates of up to 20%. Of course, there is a certain amount of prestige in achieving accreditation; there are more than 1,200 police departments in the Commonwealth of Pennsylvania and less than one hundred of them are accredited. It is significant to note that out of those seventy there are only nine, including Somerset Borough Police, in the western region of the state. The only accredited law enforcement agencies in Somerset County other than Somerset Borough is the Pennsylvania State Police.
However, what is most important about becoming accredited is the affirmation that the department is doing its best to meet its mission in the service and protection of the Somerset community. The department has engaged in a process of willingly exposing its methods and practices to an outside, objective critique that certifies the Somerset Borough Police is committed to a standard of excellence.
Additional information about accreditation and accredited agencies in Pennsylvania may be found at http://www.pachiefs.org/Accreditation.