Somerset Borough Police Retain Accredited Status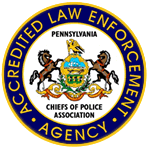 The seal of the Pennsylvania LawEnforcement Accreditation Commission.
You will see this seal affixed to the facilities and vehicles of the Somerset Borough Police Department.
In case you ever wondered what those round decals on our cruisers and station doors are all about, they represent that the Somerset Borough Police is an accredited law enforcement agency, verifiably engaging in law enforcement best practices as certified by the Pennsylvania Law Enforcement Accreditation Commission (PLEAC). SPD was initially accredited in March 2010 and was reaccredited in 2013. Of the 1,200+ municipal police agencies in the Commonwealth of Pennsylvania, there are only 107 that are accredited and SPD remains in those ranks. Our accreditation is valid for the next three years when we will again be assessed by PLEAC.
Congratulations to the men and women of the Somerset Borough Police and thank you to the Borough Mayor, Council and Administration for allowing us to pursue and maintain this goal. A special pat on the back to Sgt. Steve Borosky, our Accreditation Manager.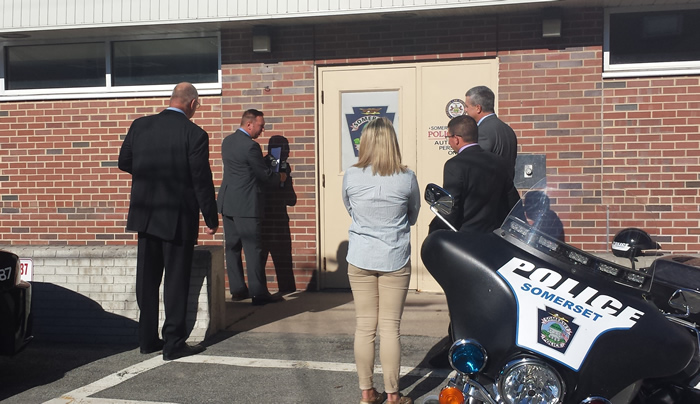 This photo was taken during the PLEAC assessment of the SPD in late August. Sgt. Steve Borosky, SPD Accreditation Manager,
is demonstrating emergency access to the station to the PLEAC Assessment Team.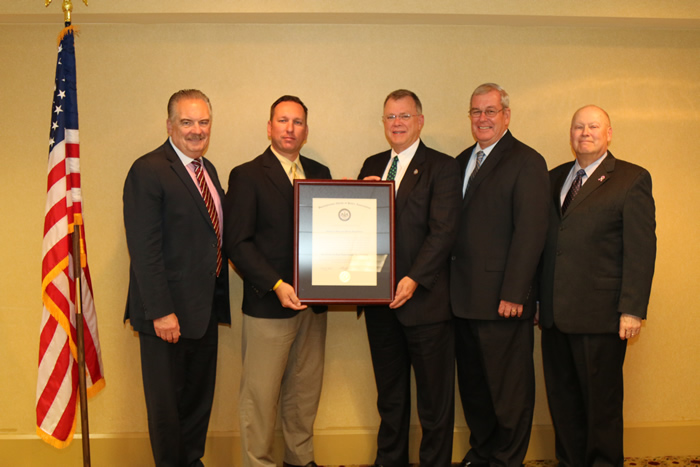 Sgt. Steve Borosky and Chief Randy Cox receive a plaque noting the departments continued accreditation at the most recent meeting of the Pennsylvania Law Enforcement Accreditation Commission (PLEAC) in Harrisburg earlier this month.

In the photo are, from left to right, Chief Bill Kelly (Abbington Township PD), chairman of the Commission; Sgt. Borosky and Chief Cox; Dick Hammon, PLEAC Coordinator; and Tom Gross, Executive Director of the Pennsylvania Chiefs of Police Association.
Learn more about the Somerset Police Department Accreditation