Somerset K-9 Sworn Into Service
 By Kecia Bal kbal@tribdem.com | Posted: Monday, October 26, 2015 11:23 pm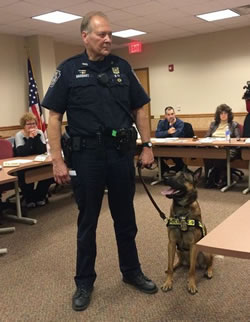 Ajay, the new Somerset Borough police K-9 officer, and his handler, officer Brian Harbart, perform a swearing-in ceremony Monday before Borough Council.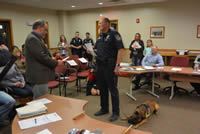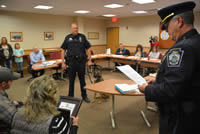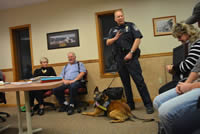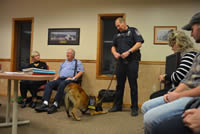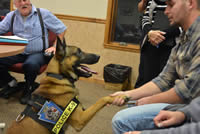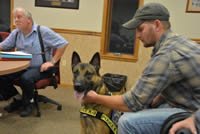 SOMERSET – Ajay, a 2-year-old Belgian malinois, is officially a badge-bearing member of Somerset Borough police.
The new K-9 officer and his handler, Officer Brian Harbart, performed a swearing-in ceremony Monday before Borough Council. Over the past week, the two officers wrapped up months of training that has been ongoing since spring.
Police Chief Randy Cox said the new dog has high expectations to live up to, but he also has a more friendly personality than his predecessor, Arny.
"He definitely has a legacy to continue," Cox said. "Ajay is more approachable than Arny was. While Arny was very effective and loyal, Ajay is going to be the type of dog that can get out and meet people. He has been very well trained and received high recommendations for his skill level."
The department's K-9 program's continuation was announced earlier this year at a council meeting following a public memorial service to honor Arny, a German shepherd who helped patrol borough streets for the past decade. Arny died of an aggressive form of cancer in March.
The EADS Group offered to cover the cost of a new dog and training, up to $10,000.
"Without EADS, it would have been much more challenging to continue the program," Cox said.
Cox also said Harbart's decade of experience leading a K-9 program is an asset to the community.
"When Brian and Ajay were in training, we arranged for their entire class to come up to Twin Lakes Center to do a drug search," he said.
"Brian was the only veteran handler. I really got to see the way Brian handled the dog, what that 10 years of experience provided to him and to us. Brian just went through that exercise flawlessly. It's thrilling to have a dog. He's the one everyone is staring at, but also remember the man behind the dog."
Following the ceremony, Harbart spoke to council about Ajay's performance during training.
"In narcotics training, we could see how aggressive he was becoming, but the true colors started to come out when we did our bite work and our area searches and article searches," he said.
"With that, he showed everything he can possibly do."
Kecia Bal is a reporter for The Tribune-Democrat. Follow her on Twitter @KeciaBKay
Somerset Borough again has K-9 on patrol
by Eric Kieta
In front of a crowded borough meeting room Monday night, the Somerset Borough Police Department officially accepted its newest four-legged officer, Ajay, to the force.
Officer Brian Harbart, the 2-year-old Belgian Malinois K-9's handler, pledged the borough's canine oath of honor in front of family members, fellow officers and local organization members.
Borough Mayor Scott Walker administered the oath to Harbart.
"On my honor, I will never use my canine partner, Ajay, to betray my badge, my integrity, my character or the public trust," Walker said, with Harbart repeating every word. "I will always have the courage to hold myself, Ajay and others accountable for our actions."
The ceremony was attended by staff from Animal Medical Center, Twin Lakes Center, Somerset County Camp Cadet and Somerset Single County Authority for Drug & Alcohol. Borough council members were also in attendance.
Ajay was chosen in May as the borough's new K-9 officer. The former K-9, Arny, was retired from the force last year and died from cancer in March.
Ajay and his training were paid for by Somerset-based The EADS Group, the borough's longtime engineering firm.
Although Ajay has been going on routine patrols and doing narcotics work for the department since June, he wasn't an official K-9 officer until Monday night.
Ajay is trained in narcotics detection, patrol work, article search, tracing and tracking. Ajay has all of the capabilities of Arny, borough police Chief Randy Cox said.
"I'm just pleased we're ready to return to the level we left off with last December," Cox said. "That's the last time Arny worked the street."
Cox said Ajay will now be on patrol 40 hours per week, with eight of those hours spent on maintenance training. After Ajay is acclimated to his role, Cox said, he will receive maintenance training for eight hours twice a month.
Walker, who as mayor oversees the police department, said he is happy with Ajay's progress.
"I just echo the chief's sentiment," Walker said. "It's just good to have a dog back."
Harbart briefed the council and those in attendance about Ajay's progress following the ceremony.
His wife, Paulette, son, Mike, and future daughter-in-law, Michelle Birkos, attended the event.
"Everything's going great," he said. "He's an aggressive dog."
posted 11-2-15