Jail board honors drug-sniffing dog, handler
VICKI ROCK Daily American Staff Writer Daily American
2:21 p.m. EDT, September 4, 2012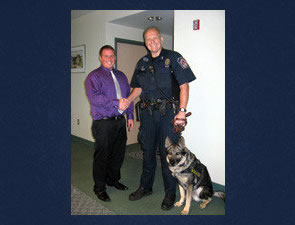 Somerset County Jail Warden Gregory Briggs, left, presents a certificate of appreciation to Somerset Borough Police Officer Brian Harbart and Arny. (Submitted photo / September 4, 2012)
Somerset Borough police Officer Brian Harbart and his K-9 partner, Arny, were recognized at Tuesday's Somerset County Prison Board meeting.
Warden Gregory Briggs presented the duo with a certificate of appreciation.
"They are a great asset to the jail," Briggs said. "We can have weekly drug searches because of Officer Harbart and Arny."
Harbart said Arny, a 7-year-old German shepherd, is from the Czech Republic and responds to commands in the Czech language. He weighs 78 pounds and is trained for drug searches, tracking and aggression response. Harbart said they train weekly.
"When he goes, people give up quick," Harbart said. "When we respond to a fight, I just roll the window down and he starts barking. The fight stops immediately. We were recently called to a fight at (a bar) and as soon as we arrived, a man said, 'I'm not fighting you or your dog.' Arny is aggressive and has a good nose for drugs."
The dog is available for drug searches in schools, but not every school in the county takes advantage of the service.
"We appreciate what you are doing for us at the jail," Commissioner Pamela Tokar-Ickes said.
Briggs presented copies of a booking policy for the board's review. This policy will cover arrests occurring after 11 p.m. and before 8 a.m. The person will be heldand arraigned by video conference by a district judge during regular business hours.
Tokar-Ickes said the policy has been under discussion for months, but the commissioners want to meet with Prime Care Medical, the company that provides medical care at the jail, to discuss medical management of arrestees before the policy is adopted. No action was taken.
The contract with PrimeCare Medical expires at the end of the year. The county received three responses to the advertised request for proposals to provide medical care at the jail. Interviews will be conducted with the applicants.
The jail averaged 99 inmates a day in August. The inmate population was 97 on Tuesday. Eighty-nine of the inmates are men. There are 18 people on the intermediate punishment program through the county probation department.