Troopers plan motorcycle rally to benefit Somerset Camp Cadet
Johnstown Tribune-Democrat, July 5, 2010
Patrick Buchnowski pbuchnowski@tribdem.com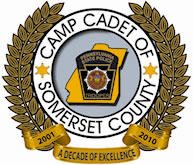 SOMERSET — Bikers will take to the road Sunday  for Camp Cadet of Somerset County's annual motorcycle run.

It's the ninth annual motorcycle run to benefit the weeklong kids camp that mimics life at the state police academy. The camp runs July 25-31 at Outdoor Odyssey at Roaring Run.

"Some of the kids have no concept of teamwork," Trooper Jeff Brock said. "We try to instill in them that life is a team event. They have to learn to function as a team."

It costs $300 to send one 13-to-15 year old to camp.This year, 34 youngsters from Somerset County are expected to participate, making the fundraiser critical to supporting the camp, Brock said.

The 77-mile motorcycle run starts at the Somerset County Airport near the Mountain Boss Hoss Cycles.

The ride begins at noon with registration at 10:30.

Cost is $20 per rider. It includes a meal at the Chuck Wagon Restaurant in Somerset.

Prizes will be raffled off including a jacket from Highland Harley-Davidson. The event includes a 50/50 drawing, bike judging and T-shirts.

The camp, its 10th year, introduces cadets to the rigors of law enforcement, including DUI enforcement, criminal investigation, forensics, CPR and first aid.

Somerset Borough police have in the past held K-9 and Taser demonstrations and have explained arrest procedures.  

Benefit ride
What: Ninth annual Camp Cadet Motorcycle Run.

When: Noon on Sunday. Registration at 10:30 a.m.

Where: Somerset County Airport near Mountain Boss Hoss Cycles.

Cost: $20.

Information: www.somersetcampcadet.org.
By the end of camp, the kids have grown and matured.
"We can see such a big difference in these kids that the parents can't believe it," Brock said. "It brings them to tears."
Cadets often go on to rewarding careers, he said.
"We've got graduates who are serving their country in Afghan-istan right now," Brock said.
"We've got some in medical school."
The camp is not easy, Somerset police Chief Randy Cox said.
"It certainly takes a special kind of young person to complete the camp," he said. "It's not an easy thing to do.
"When they're coming out, you know you've been a part of something special to help those kids improve themselves," he said.