Criminal cases decline in Somerset Borough
Published: November 24, 2007 11:58 pm
BY KECIA BAL
The Tribune-Democrat
SOMERSET — Driving through the borough – day or night – the police officers are hard to miss.

Borough officials are hoping criminals have noticed, too.

While the number of incidents borough police respond to has spiked nearly 20 percent since 2006, criminal calls have dipped by 9 percent.

"Any police department divides occurrences by law enforcement and community service calls," police Chief Randy Cox said.

"We are performing more community-service type responses – problems in neighborhoods that do not necessarily amount to criminal."

For the first time since Cox joined the force in 2005, the department has reached Cox's goal of 18 officers, which includes seven full-timers.

"A lot of the increase in incidents could be because officers are encouraged to engage in activities that offer high visibility," he said.

And when officers respond to criminals calls, they are catching perpetrators at a higher rate than national figures.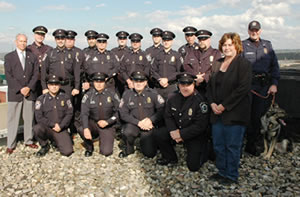 This year, department administrators started tracking the officers' clearance rate – the percent of criminal calls that lead to an arrest. The department's rate is 75 percent, compared with about 60 percent nationwide in the most recent figures from an FBI report.

"That is an excellent figure," Cox said. "Three out of four times, if you commit a crime in the borough, you are going to get arrested."

Borough leaders seem happy with the trend.

"Our force is doing an excellent job," Mayor Bill Meyer said. "Out and out criminal cases are down."

Meyer credited the officers' visibility as one answer to the dip in criminal activity, as well as the addition of patrol and drug detection dog, Arny, in November 2005.

"We would like to think it has something to do with the dog, too," Meyer added.

So far in 2007, the department has handled 5,348 incidents, including 503 crimes.

"This is not a good place for criminals," he said. "We want to keep them out of town.
Visit theTribune-Democrat at www.tribune-democrat.com
Posted 11-27-07