Chief Concerns
By KECIA BAL
TRIBUNE-DEMOCRAT SOMERSET BUREAU
kbal@tribdem.com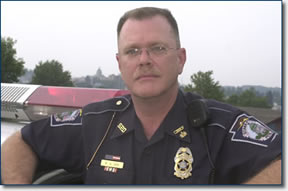 SOMERSET - He asked for it, and he got it.
Even-keel borough police Chief Randy Cox said he was looking for a post to jolt him out of his comfort zone when he accepted his job a year ago. "I do my best work when I'm challenged," he said.
The 23-year law-enforcement veteran's first-year initiation included breaking up a deep-seated jail-assault scandal, tackling an increasing number of incidents and crimes - many due to a creeping heroin problem - and steering the department through the retirement of two longtime officers.
Cox spent 14 years as chief in Ligonier Borough before taking over for former Chief Brad Cramer Aug.  9, 2004. "My only hesitation about coming to Somerset was that I was worried that, 'What if I go here and everything is the same, only a bigger department?'" Cox said.
Mayor Bill Meyer said Cox has handled the obstacles with the reserve and command of a good leader. "Randy's leadership style is to let people know what he expects of them and then to let them do it," he said. "He said he wanted a busier department," Meyer said. "He found one."
So far this year, the number of incidents has risen 26-percent and crimes have climbed by 14-percent, while two veteran officers retired - one expected and one a sad surprise. Cox said the incidents aren't as troubling as the crime statistics. "The crimes seem to be drug-related," Cox said. Heroin addictions have led to more thefts and burglaries, he said. "People need ready cash to buy drugs," he said. "Even domestic disputes - with the slow disintegration of family units - the root of the problem is drugs."
More training for the officers and a better relationship with Somerset County's Drug Task Force are a first answer, Cox said. "We need to look at the officers' information gathering, and their knowledge-level about drugs," he said. Losing mid-level management officers in the midst of the incident increases created a tougher work load for everyone. James Hahn, who spent 35 years patrolling borough streets, retired, as well as Investigator Clifford Pile, who spent 26 years with the department. Pile is battling pancreatic cancer and turned in his badge in July. Both served as an Officer-in-charge. "Jim was so well-liked, and he knew the community so well," Cox said. "For more than a decade, every officer hired here was trained by Cliff."
Cox promoted two part-time officers, Aaron Folton and Richard Appel, to full-time positions. "It is a tribute to the officers that they didn't fall through the newly created gaps," Cox said. Community services Officer Charles Santa said Cox grounded them with a sense of order through the changes. "We basically lost our nucleus over the last few months," Santa said. A retired Johnstown policeman, Santa has worked under nearly a dozen chiefs. "It's not a dictatorship," he said. "If it has to be a certain way, he tells you why."
Most situations Cox has faced were expected, he said. "Policing is policing," he said. "There were the same kinds of things in Ligonier, just the number is greater here." One thing he could not foresee was the slew of rubber-shoe beatings uncovered at the county jail. "That was something I had never faced before," he said. In March, seven inmates were charged as part of the ongoing investigation.
"There is a certain sense of pride that the district attorney trusted us to conduct that investigation," Cox said. "We have a very good group of investigators." He credited borough council members, too, as well as administrators for helping him through the troubles. "I haven't had one bad experience working with anyone," he said.
Borough Manager Benedict Vinzani Jr. said the same of Cox. "He has a good sense of where the department wants to be," Vinzani said. "He is very goal-oriented."
Some of the chief's goals for the next year include having the department accredited with the Pennsylvania Chiefs of Police Association, managing staffing changes, working with the $800,000 budget and finding ways to ward off heroin.
Borough officers may find a new home, too. Borough Council members are considering turning the municipal building into a public safety headquarters shared by the police department and volunteer fire company. "Of all the plans I've seen, the public safety building concept would be the best," Cox said. Borough Solicitor Jack Dirienzo and the fire department's attorney, Jim Cascio, are working on a plan, though Vinzani said the idea remains in the concept phase. "You have to have a productive work environment," he said. Improving their facilities could help with the accreditation requirements. Cox said he will keep working with what they have. "You have to be creative, be the best department you can with the resources available."
Cox said he strives to stay on the streets, alongside his officers. "I became a cop to be a cop, not because I wanted to be a chief," he said. Officer Tony Novak said it's a good thing Cox accepted the gold badge. "In the face of crises, he responded with diligence and professionalism."