After 26 years with Somerset Borough Police Department Clifford Pile, officer in charge, retired June 21.
By MICHELLE GANASSI
Daily American Staff Writer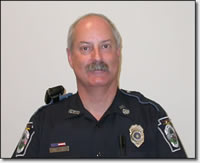 During his tenure with the department, he was a criminal investigator for 18 years, and one of the first officers-in-charge. He was a crime scene processing officer. He also was the department's dog handler when they had a
police dog and served on various task forces.
"Cliff wore so many hats," Police Chief Randy Cox said. "I could go on and on with everything he did and I am probably forgetting things because he did so much."
Pile said he enjoyed the excitement of the job and the satisfaction of helping others.
"Everyday is something different," Pile said. "There are some normal day-to-day functions, but it is rapidly evolving and fast paced. I wanted to do something to help people."
Pile said he enjoyed all the aspect of his career, but holds dear the memories of being the departments dog handler. "My fondest memories and the area I enjoyed the most was the years I spent as a K9 handler," Pile said.
Pile was devoted to each of his responsibilities. "Cliff was a dedicated professional," Rich Appel, criminal investigator said. "He was a dedicated police officer on the job and a dedicated family man off the job."
One of those hats was working in criminal investigations. Cox, who has worked with investigators on local, state and federal levels, was impressed with Pile's investigation talents. "He is probably the finest investigator I ever came across," Cox said.
Pile was instrumental in training of new hires. He coordinated all training and investigations aspects. Pile assisted in setting criteria for new hires and helped with background checks. "Every new hire who came into the department was trained by Cliff," Cox said. "He was very instrumental in the hiring process. Cliff was responsible for so much of the training, now there's a void there."
Appel said his careful training made him a great teacher. "He was a very close friend, mentor and colleague," Appel said. " He took the time to make sure what he was teaching you was getting across."
Pile said he had some great advisers and wanted to share the knowledge given to him throughout the years. "I had a lot of mentors thought-out my career," Pile said. "I learned a lot from those officers. It was a good feeling to be able to work with other officers and share my experiences and my knowledge."
Cox said Pile is missed by everyone in the department. Pile was not only a great officer, but a great person who made everyone laugh. "It brings tears to my eyes," Ruth Beckner, criminal investigator said. "He's a very special person and will always be. I enjoyed all the time I had working with him."
Beckner said Pile left shoes too big for another officer to fill. "I don't think anyone will be able to replace him," Beckner said. "Anytime you needed his help with anything he was always here."
His leadership abilities in the department set a great example for the other officers. "Cliff Pile is a lot of the things I strive to be or become," Appel said.
Always professional, Pile also took time to help others enjoy their job. "I'd like to describe Cliff as the ultimate person in true blue," Officer Tony Novak said. "Everything he did was professional, but he always made time to make the job enjoyable." Pile would sing in the criminal investigation office. Novak recalled starting his shift to Pile singing. "Cliff would be singing Mr. Blue Bird," Novak said. "It was just the way he did it that made the job enjoyable." Pile said he would sing in the office, but admitted he wasn't the best singer. "I do a little singing, but it's not very good," Pile said. "When you do something like that, pretty soon everyone starts."
Aside from teaching and humoring the department, Officer Stephen Borosky said Pile always brought food for his fellow officers. "He always brought in pies he would bake and Jell-O he would make," Borosky said. Borosky added every Christmas he would make "Vietnamese Eggs," a family recipe from Vietnam, for the entire department. "I made a big batch of those eggs and would bring them in," Pile said. His cooking abilities reached as far as Richland Police Department. He said he would have to make a batch for them as well. "I like to see the people I'm around eating and enjoying a good time," Pile added.
In the past eight months, three officers retired from the department. Pile, although eligible for retirement, was not expected to retire. "When Brad and Jim retired it wasn't a surprise to anyone," Cox said. "We just weren't expecting him (Pile) to retire right now." The decision to retire was a tough one for Pile. "It wasn't that I really wanted to," Pile said. "It was the hand that was dealt to me." In 2002 Pile was diagnosed with pancreatic cancer. After two successful surgeries, he was able to return to the job he loved. "I was very fortunate they were able to do surgery," Pile said.
Pile said he would go to chemotherapy and radiation in the morning before his shift started. This past April, his cancer returned and he had other health issues. "It was much more severe of an operation then the first two," Pile said. "I knew I was going to have another series of very potent chemotherapy."
Pile evaluated his decision and decided to retire from law enforcement. He wants to spend more time with his family and said he may continue to teach if his health allows. "I had my time in and I just didn't think I could give them 100 percent like I did before," Pile said.
Officers at the department are assuming his responsibilities. "We have talented, skilled, quality people here," Cox said. "I know they'll pick-up the slack. A number of people will share the workload of the things Cliff did."
(Michelle Ganassi can be contacted at michelleg@dailyamerican.com.)
Ex-Somerset officer in fight for life
By KIRK SWAUGER
TRIBUNE-DEMOCRAT SOMERSET BUREAU

SOMERSET - Cliff Pile has survived having his lungs seared by sulfuric acid fumes. He has tracked down murderers, cracked what were thought to be unsolvable crimes and is a master of self defense with training by the Israeli military. Now, Pile is relying on his experience as a tenacious criminal investigator for the Somerset police to battle a stealthy, aggressive killer: Pancreatic cancer.

Four years after being diagnosed with the disease and having three-quarters of his pancreas removed, the cancer returned in April. Pile spent a month in Pittsburgh hospitals, and began chemotherapy in Johnstown on Wednesday.

"When I first found out I had cancer, it took me a while to get my head out of my (rear end)," said Pile, 50, of Somerset, returning to the police station where he spent 26 years before retiring last month.

"Then you realize that you've got to get into the battle and fighting mode. I used to tell guys I was training you have to have that animal will to live. You've got to get it ingrained in your mind that you're going to win and be a survivor."

Those closest to the humorous yet dogged former officer have no doubts he will persevere. "He's a fighter," officer Ruth Beckner said. "He loves life." Pile is revered in the close-knit department for his investigative talents and engaging personality. His absence is evident, Chief Randy Cox said. "When you walk in, you still hear laughter, but there's a little less of it," Cox said. "The mood is different. It's not really down, it's not bad - it's just not as up as it was before."

Pile's ability to solve even the toughest cases set him apart. While investigating an armed robbery at a borough convenience store in 1991, Pile eventually proved the prime suspect also suffocated his baby with a pillow. Originally, the infant was thought to have died from sudden infant death syndrome. And he spent two years following the trail of a license plate that was stolen from a scrap heap to arrest three robbers wanted for a shootout with officers in 1992. And he was the main investigator in the inmate-on-inmate abuse scandal at the Somerset County Jail, an ongoing case that has uncovered dozens of suspected beatings at the lockup.

"I've never met a finer investigator than Cliff in my entire career," Cox said. "I don't care if we're talking about municipal officers, state or federal." Cox points to Pile's cleverness; his extensive training, mostly through police magazines and other resources, and his dedication. "I've had so many officers describe Cliff as a cop's cop. And he's also a chief's cop: His work ethic, the tenacity he would display on tough cases," the chief said.
Pile was accomplished at interrogations, using his folksy style to masterfully get suspects to confess or witnesses to provide key information. "The humility of Cliff Pile would just disarm people,'' Cox said. "Often times, people, especially in an interrogation setting, would underestimate him."

After receiving his officer's training at Community College of Beaver County, Pile spent a short time as an officer at the University of Pittsburgh at Johnstown and Seven Springs before returning to Somerset, his hometown, in 1979. With the borough force, he rose from patrolman to K-9 officer to criminal investigator and officer-in-charge. Pile said his time as a K-9 officer from 1985-87, tracking bank robbers, a bomber and lost children with his dog, "Bandit," was the "most satisfying."

Toxic spill
Though he cannot prove it, Pile believes his disease could be traced partially to a chemical spill 18 years ago. On Feb. 24, 1987, he was working the midnight shift on routine patrol, driving behind a tanker that was carrying a combination of nitrous and sulfuric acid. As snow swirled, Pile said he was stopped behind the truck at a red light on East Main Street when suddenly fluid gushed out the back. He called the tanker's hazardous-materials placard number in to dispatchers and eventually stopped the truck near the turnpike interchange. But the damage was already done: Pile said he breathed the noxious chemicals through his cruiser's heater, sustaining first- and second-degree burns to his lungs and swollen lymph nodes. "They can't say for sure" whether it is related to his pancreatic cancer, Pile said. "But I don't think it helped."

Deadly disease
Four years ago, Pile was diagnosed with the disease after a bout of pancreatitis, an unusual illness because he rarely drinks alcohol. Most of his pancreas was removed, and he underwent chemotherapy and radiation treatment. "I have the most aggressive form of pancreatic cancer," Pile said. "They told me at the time the likelihood of it coming back was high."

Regaining his health, Pile returned to the force, spending three years spearheading investigations in a department that has handled a rapidly expanding caseload. "Cliff didn't need supervision. You never, never had to worry," said Cox, who has been chief for about a year after serving in a similar capacity in Ligonier.

In April, Pile said he noticed that his blood-sugar levels were erratic. A month later, after notifying doctors, jaundice set in.
On May 31, doctors at UPMC Presbyterian Hospital in Pittsburgh removed the remainder of his pancreas. He spent four weeks recuperating at Montefiore Hospital. Pile now takes digestive enzymes to compensate for his missing pancreas and is severely diabetic. "It was pretty rough," he said. "It just didn't seem like I was making any progress as far as my rehabilitation and getting myself back on my feet."

He credits telephone calls, cards and prayers from residents with guiding him through the despair. "The amount of caring and compassion the public has shown, not just to me but to my family, is overwhelming," said Pile, fighting back tears. "There were people who sent me cards I never dreamed would have cared. "I want to thank the community." 'Prove them wrong'

Pile slowly is regaining his strength by walking and exercising, though he has not yet received clearance to begin lifting weights. He spends time with his wife, Janice, and his sons, Jason, 26, and Christopher, 20. Occasionally, he goes back to the camaraderie of the police station. "It's extremely difficult," he said of retirement. "You still see everybody, but it's just not the same."I actually liked the criminal investigations. It was a challenge. You had to put all the pieces of the puzzle together."

Pile is the third longtime Somerset officer to retire in the past year, joining former Officers Jim Hahn and Brad Cramer. "I really didn't want to retire. I wanted to work another two or three years," he said. "But that was the hand that was dealt to me, so you have to make the best of it."

He vows he will survive. "The disease is not going to control me and what I do. I'm going to control my own destiny," he said. "I've seen other people who are just so devastated by the disease, they let it take over. You can't do that. "If I have anything to say about it, it's not going to come back again. I'm going to prove them wrong."