Officers, community benefiting from Crisis Intervention Training


By MICHELLE GANASSI
Daily American Staff Writer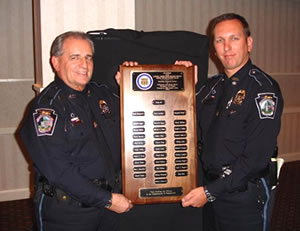 OIC Phillip Staib and OIC Stephen C. Borosky. OIC Rich Appel, also a CIT Officer is absent from the photo.  The plaque commemorates the officers as the first CIT officers in the Commonwealth of Pennsylvania.
Saturday, October 6, 2007 12:41 AM EDT
As more local police officers prepare to participate in crisis intervention training, police and members of the mental health
community said those trained are benefiting the region.

The Laurel Highlands Region Police Crisis Intervention Team was formed when two officers in Cambria County attended training at the Memphis Police Department in Tennessee, where the training model is a nationally recognized program.
This team is the first of its kind in Pennsylvania. The training focuses on mental health knowledge, verbal de-escalation, crisis resolution skills and access to community services. The next class is scheduled to begin in November.

Detective Kevin Gaudlip, an officer with the Richland Township Police Department, was one who brought the program to the region. He said the training officers received can be put to use on a daily basis. Officer-In-Charge Phil Staib, Somerset Borough police, said the program was informative and enlightening. What he learned from the program can be used on a daily basis, not just in certain situations.

The team has also received a positive response from the community, Gaudlip said.

"They have had a good interaction with the community and good interaction with veterans groups," he said. "They like to see the police have this type of training."

The group is working to build stronger relationships with mental health care facilities and other organizations in the region. Officers have also met with veteran groups to better understand post traumatic stress disorder, Staib said.

"I have gone to meetings with the veterans organizations in town to explain to them what we're prepared to do to assist them," he said.

Mental health consumers are intrigued by the team and have even requested a CIT officer to respond because they better understand what the individual is going through, Gaudlip said.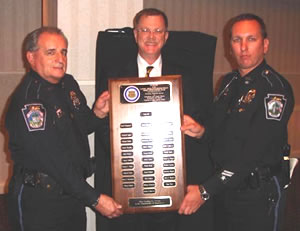 OIC Phillip Staib, Police Chief Randy Cox, and OIC Stephen C. Borosky. OIC Rich Appel, also a CIT Officer is absent from the photo.
Tom Bender, director of crisis intervention for Bedford-Somerset MH/MR in Somerset County, said the mental health community is benefiting from having these officers trained in verbal de-escalation. He does not have figures yet to see how the number of calls to his office has decreased.

"I really see the police functioning different and the CIT officers being able to do verbal de-escalation with folks in much more efficient way," he said. "We aren't getting as many calls now regarding domestic violence situations."

He said the mentally ill feel comfortable with the officers who received the training.

"They think, 'He knows some of my history; he knows some of my life story so he is going to take some time and not just throw the cuffs on me and arrest me,'" he said. "And that's a big deal for us to have that kind of resource in the community."

In the long term, he thinks fewer mentally ill people will be charged with crimes, he said.

"There will be fewer charges pressed against folks who are mentally ill and just distressed," he said. "You will see less mentally ill folks in the jail and on several levels that is a good thing."

Sgt. Rick Skiles, Windber Borough police, has one officer who completed the training. He said while the training is beneficial to the community, it takes a certain type of officer to complete the training.

"You have to have the right personality to do that training," he said.

His officer, Mike Thomas, offers advice to the other officers on how to deal with certain situations.

"Every day he works, if he goes to a domestic where emotions are involved, his CIT training absolutely comes into play," Skiles said. "Other officers do discuss what his training was about and gain different knowledge that can be used in situations that they handle."

Gaudlip said the next week-long class for CIT training will begin Nov. 5. Skiles, like some other police chiefs, is evaluating his officers to see who is well-suited to the training

"It takes a special officers because it's a very difficult training for a week," Skiles said.

The members of the CIT team are officers from Windber, Paint and Somerset boroughs and Conemaugh Township. The trained officers are available 24 hours a day, seven days a week to respond to critical incident calls.
(Michelle Ganassi can be reached at michelleg@dailyamerican.com.)
Visit the Daily American "Somerset County's Newspaper" at www.dailyamerican.com
Posted 10-11-07