DUI checkpoint sends message to motorists
By KECIA BAL
kbal@tribdem.com
Somerset —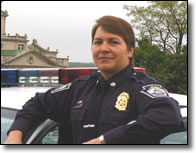 The details were as unclear as the dimly lit, smoky bar scenes. But the moral in every story about area sobriety checkpoints was obvious at local bars Friday night: Watch out. Word had spread that police were stopping vehicles on North Center Avenue where the Borough ends and Somerset Township begins. Some told of unusual undercover vehicles. One man told a chum that police had every exit of the Borough covered.

At Maggie Mae's Neighborhood Cafe, a half mile from where officers and troopers were lighting flares and police lights, a few said they knew checkpoints were coming some time soon. Another said he thought police had conducted one Wednesday.

It didn't take more than 20 minutes for word to spread to Myron's Lounge in the Quality Inn near the Pennsylvania Turnpike interchange. "We had a big table that left after some one got a call about it," said bartender Jeff Richards. "With cell phones, everybody knows."

A few took the opportunity to curse sobriety checks, but not all. "If you have lost someone – a sister, friend, whoever – to a drunk-driving accident, you could appreciate it," Richards said.

Devin Croyle and a couple buddies said they were being cautious after a friend tipped them off. "We just heard about it a few minutes ago," he said.

That was part of the goal, said state police Cpl. William Link. "If we set up and get the effect going, word is going to spread," he told borough officers and state troopers at a briefing that began their mission. Four Borough officers joined four state troopers in conducting the stops into early Saturday morning. It was the county's first sobriety checkpoint in at least four years. "Our goals are to prevent drunk drivers and drunk-driving crashes," he said. "It's also about making people think before they drink and drive. This is basically their chance to not get arrested."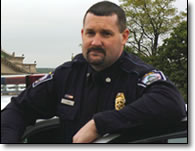 On scene, officers stood in the 14-degree weather, leaning into the drivers' side window of each vehicle with a "How are you folks?" or a "Hello, ma'am" or "Good evening, sir."

Though they asked whether the motorists had been drinking, getting close was the real indicator. There was a whiff of air fresheners here and French fries there, but by 11:30 p.m., not one person had been arrested for drunk driving.

A passenger in one vehicle was sent straight to jail after officers discovered he was under a bench warrant. "If we go without one DUI all night, this will still have been a success," Borough police Chief Randy Cox said. "I have a belief that this gets people thinking about drinking and driving," he said.

Barbara Patton of Somerset drove her pickup truck past the checkpoint flares and handed over her papers to Link. Patton said she appreciated the enforcement, even if it meant slowing her drive to work in Johnstown.
"With your kids on the road, there's plenty to worry about," she said, clicking on her seat belt after a warning from Link.

Mark Lyons of Jennerstown said he felt safer driving with his family after he made it past the troopers. "It's really not a bad thing," he said.

Many motorists even thanked the troopers and officers for their work, Link said. "We've had a really positive response from the public," he said, adding that one man requested that they "catch a couple thousand" drunk drivers.

Friday night was the first sobriety checkpoint in a new routine for state police, who are to rotate every five weeks between Somerset and four other county barracks in the region. "It gets people thinking twice about getting behind the wheel after drinking," Link said.

Kecia Bal can be reached at 445-5103 or kbal@tribdem.com.
DUI crackdown starts in Somerset
By KIRK SWAUGER
kswauger@tribdem.com
Somerset — Published: November 25, 2005 11:35 pm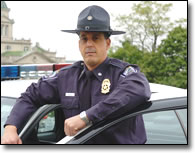 Janice Lint was driving home from a bingo game in Somerset when she was stopped by a line of flashing lights and police officers Friday night. She handed over her license, said she hadn't been drinking, and was free to go. "I think it's great they're trying to get drunks off the road," said Lint, 67, of Boswell, during the first sobriety checkpoint in Somerset County in at least four years.

As part of a state police crackdown on drunken driving, the DUI checkpoints will become more routine, rotating every five weeks between Somerset and four other county barracks in the regional troop.

Though no drunken drivers had been arrested at the checkpoint as of 10 p.m., the message was clear. It took less than 30 minutes before word began spreading through nearby bars. "Historically, DUI checkpoints have had a psychological effect on deterring drunken driving," state police Cpl. William Link said. "Our duty as police officers is not only enforcement, but education and preventing crimes."

The checkpoint was set up at 8:50 p.m. just past the Pennsylvania Turnpike bridge on North Center Avenue at the boundary between the borough and Somerset Township. It's traditionally among the worst spots for drunk drivers: State police statistics show the highest concentration of DUI arrests and wrecks in the county occur in the Somerset area, specifically on North Center Avenue and Route 985. The peak time for drunk drivers in the county is Friday evenings to 1 a.m. Saturday mornings, records show.

Four Borough officers and four state troopers stopped all vehicles traveling northbound out of town, asking drivers for their license, registration and whether they had been drinking. Periodically, motorists were issued warnings for not having proper paperwork. "It's been mostly minor stuff," Link said.

Along with the checkpoint, four officers from the state Bureau of Liquor Control Enforcement based in Altoona conducted undercover operations at bars in the area Friday night. Patrons found to be visibly intoxicated would be charged with public drunkenness, and bartenders were to be cited for serving alcohol to an already drunk customer, an undercover officer with the agency said during a pre-checkpoint briefing at the state police barracks.

Borough police Chief Randy Cox said the checkpoint gives officers a chance to prevent accidents before they happen. "So often, police are forced into the role of being reactive," Cox said. "This gives us the opportunity to be proactive. Not only can we perhaps take a drunk off the road, but we definitely have a chance to give someone pause for thought whether they want to be that drunk."

Adam Landis, 19, of Berlin said the checkpoint makes it safer during the holiday season. "I think it's pretty smart," Landis said after answering questions from Link.

Mary Rugg, 41, of Somerset, a passenger in another vehicle, agreed. "That's what they need to do – keep all the drunks off the road," Rugg said as she headed to Wal-Mart. "They could save a life."