Most allegations of misconduct at the Somerset County Jail unfounded
Vicki Rock Daily American Staff Writer Daily American
12:06 p.m. EDT, May 31, 2013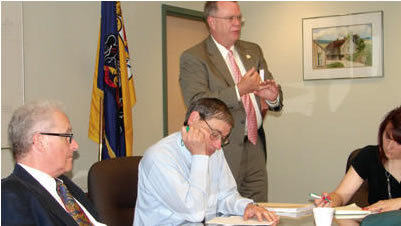 Most of the allegations about employees of the Somerset County Jail were unsubstantiated, Somerset Borough police Chief Randy Cox told the prison board at a special meeting on Friday.
Charges of indecent assault and harassment will be filed against one employee, he added.
The investigation began in March after Commissioner Joe Betta went to the jail to talk to employees about PrimeCare, the jail's health care provider. He said he wanted to decide if he should vote to renew PrimeCare's contract.
While he was there, employees told him about sexual harassment. Those incidents had nothing to do with PrimeCare. The prison board then told Betta to stop his interviews and to turn over the information that he had to the borough police.
Cox said on Friday that he was issuing a preliminary report to the board. Detective Angelo Cancelliere and Richard Appel, officer-in-charge for criminal investigations, were the investigators.
Judge John Cascio said he was uncomfortable with the information being released in a public setting because charges have not been filed. Commissioner John Vatavuk said he agreed with the judge. Betta said if no names are being released, he thought that Cox should give his report in the open. No one made a motion to close the meeting.
Five female employees alleged that the same male staff member subjected them to verbal or physical harassment, Cox said. Two of the cases were outside the statute of limitations, meaning they occurred more than two years ago. One of the cases would rise to the level of a summary offense. In the remaining two cases, the victims indicated that they would choose to pursue prosecution, Cox said. Cancelliere said charges will be filed in the next few weeks.
"The second area of investigation was staff on inmate abuse," Cox said. "The vast majority were found to be unfounded. Some were based on episodes that were addressed in the 2004-06 investigation. Many reports were third-hand, somebody heard somebody else assaulted someone."
Two of the cases warranted further investigation. One was an inmate complaining about being forcibly extracted from his cell. That was videotaped and was done properly, Cox said. Another was a female inmate who was being transferred to state prison who was not allowed to go to court for a child custody hearing. That was baseless.
The allegations of theft and fraudulent practices against PrimeCare were also unfounded, the chief said. Someone alleged that a PrimeCare employee entered someone else's initials on paperwork. That may be a policy issue for the board to address, he said. PrimeCare's administration told Cancelliere that the medication's inventory matched records so nothing was taken.
The final area of allegations was theft of money from the inmates' commissary. An employee was counting money at her desk and walked away to ask someone a question. When she returned to her desk, the money had been taken. Warden Greg Briggs said a change in policy should prevent that from happening again.
Betta asked Cox if the report addresses systematic policy questions. Cox said it does not. If allegations do not meet the criteria of a crime as defined by law, the police do not get involved.
When asked for opinion on matters of practice and policy, Cox said, "I don't know if you want a bunch of cops to tell you how to run the jail," he said. "If the activity had come to us from the street and not the jail, I would have felt comfortable with the newest rookie patrolman handling the investigation. Two experienced officers investigated only because the allegations came from the jail. Compared to the incidents in 2004-06, these are very minor incidents."
In 2005 an investigation at the jail uncovered evidence of a group of inmates beating other inmates with rubber shower shoes which led to criminal charges being filed against correctional officers and inmates.