Somerset Council Meets New K-9

Somerset council meets new K-9 Somerset Borough police Officer Brian Harbart walks the deparment's new K-9 Ajay into the Somerset Borough Building Monday. The council met Ajay for the first time during a regular monthly meeting Monday. Staff photo by Eric Kieta
Somerset council meets new K-9
By ERIC KIETA erick@dailyamerican.com | Posted: Monday, May 18, 2015 10:37 pm
The newest addition to the Somerset Borough police force, K-9 Ajay, met the borough council for the first time Monday when Officer Brian Harbart introduced the dog during the council's regular monthly meeting.
Harbart, along with his wife, Paulette, told council members about Ajay and provided an update on his training.
Ajay acted comfortable in the council's meeting room, chewing apart a yellow rubber toy and rolling around on the carpet. "We've had him 10 days and I have not seen him lay down once," Paulette Harbart said. "He's just on the go constantly. He's busy, he has to be moving."
Brian Harbart said Ajay received a clean bill of health from his veterinarian at Animal Medical Center in Somerset. He has been adjusting to life with the family. He has been going on routine patrols in Harbart's police cruiser since coming to town May 8. "He's got a lot in common with Arny, he's just not angry all of the time," Harbart told the council. "His nose is unbelievable, so I think he's going to be OK."
The department's former K-9, Arny, died March 17 from an aggressive form of cancer. Somerset Police Chief Randy Cox said the training process for Arny took about six months. Ajay's training, Cox said, should take half as long because Harbart now has 10 years experience as a K-9 handler. Ajay and his training are being paid for by a donation of up to $10,000 from The EADS Group of Somerset. Cox estimated the total price tag to be about $8,000 to $9,000. "I'm really expecting him to be back on the streets by June for narcotics," he said, "and by the end of summer for the rest (aggression, tracking and search and rescue training)."
Somerset council meets new K-9 Somerset Borough police Officer Brian Harbart walks the deparment's new K-9 Ajay into the Somerset Borough Building Monday. The council met Ajay for the first time during a regular monthly meeting Monday. See more photos and video at www.dailyamerican.com. Staff photo by Eric Kieta Somerset council meets new K-9 - Daily American: Somerset Page 1 of 2 http://www.dailyamerican.com/news/local/somerset/somerset-council-meets-new-k/article... 5/19/2015
Cox said the council requested for Ajay to come to Monday's meeting. "The reason he was here tonight was just because council was excited and wanted to see him," Cox said. "He's a neat guy. You can just see that look in his face. It's just an intelligent look."
At one point during the visit, Ajay jumped forward and began barking loudly at council member Steve Shaulis. Shaulis said he may have done something to set the K-9 off such as looking directly into its eyes. Harbart quickly got Ajay under control and pointed out the dog's willingness to listen to commands. "What a great first impression. I thought he was going to take my nose off," Shaulis said with a laugh. "That's the kind of dog we need though in the borough."
Mayor Scott Walker said he couldn't be happier with the department's selection. "I love it, I'm thrilled," Walker said. "He seems like exactly what we need. He looks very intelligent. He's breathed new life into Officer Harbart."
Council President Ruby Miller said she was impressed with Ajay as well. Miller said the dog seems friendly. She said Arny wasn't friendly toward her. "I think he's gorgeous," she said. "I think he is going to like women, too."
---
Somerset welcomes new K-9 officer
By Kecia Bal
kbal@tribdem.com | Posted: Tuesday, May 19, 2015 12:33 am
Borough Council on Monday got a first look at the Ajay – the new police K-9, a 2-year -old Belgian malinois.
The officer-in-training chewed a hole into a yellow "indestructible" dog toy as council members talked to the K-9 handler, Officer Brian Harbart, about how Ajay is adjusting to his new home with Brian and his wife, Paulette.
Officer Harbart said the dog shows great potential. He's full of spunk and he's quick, Brian Harbart said. "His nose is unbelievable," he said. "And I don't think anybody is going to outrun him."
Paulette Harbart said she hasn't seen Ajay be still in the 10 days he's been at their home.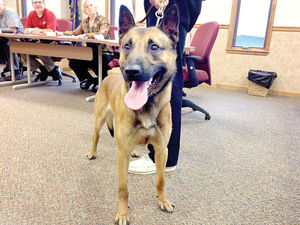 Police Chief Randy Cox said a bonding period with the family is important before the dog moves forward with additional training, which included about two months on the street and about three months of more formal training for Arny, Ajay's predecessor. This time around, Cox said, the training period likely will be shorter because Officer Harbart has been a handler for 10 years already.
"I think we could see that five- or six-month period of time easily cut in half," Cox said.
That means the dog could be fully integrated into the department by the end of summer. The department's K-9 program's continuation was announced at the council meeting following a public memorial service to honor Arny, a German shepherd who helped patrol borough streets for the past decade. Arny died of an aggressive form of cancer in March.
The EADS Group offered to cover the cost of a new dog and training, up to $10,000.
Borough Mayor Scott Walker said he's impressed with Ajay already. "You can just tell he's very intelligent," Walker said said.

May 19, 2015