SPD K9 Team participates in training at Fairhope elephant sanctuary
MICHELLE GANASSI Daily American
Staff Writer, @damichelleg Daily American 9:54 p.m. EDT, May 30, 2013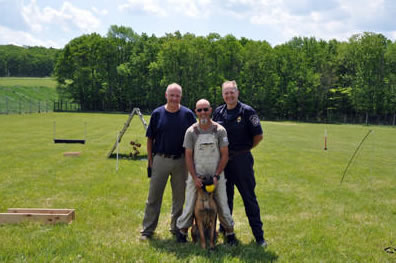 (l-r) ICC Manager Dayton Baker, Bart Bellon, SPD K9 Officer Brian Harbart
The Pittsburgh Zoo & PPG Aquarium brought a world-renowned expert to the International Conversation Center Thursday to conduct a training seminar for guard dogs at the elephant breeding facility, located near Fairhope.

"Because we are the zoo we can attract world experts like Bart (Bellon)," center manager Dayton Baker said.
Bellon is conducting workshops and seminars at the center this week. Baker said Bellon will allow only 10 people at a time in his weeklong seminars.

Somerset Borough Police Department K-9 handler Brian Harbart and his dog, Arny, attended for a couple days.

"A lot of what he teaches applies directly to what Brian does," Baker said.

Baker said there are four guard dogs at the center to help patrol the property.

"When you work with the best, everybody gets better," he said of the training.

Harbart said Thursday that the training method he observed during the seminar is different than what he learned during his police handling classes with Arny. He said he plans to share the information with other K-9 handlers.

"I am not sure they are going to change their ways, but I am going to share it," he said.

The weeklong seminar included sessions in tracking, aggression and obedience.

On Thursday the Daily American was invited to see a short demonstration by Bellon.

Bellon said he started training dogs by accident. He was asked to help others train dogs. As the demand grew, he began charging for his services, hoping people would stop asking, he said. They didn't. Bellon eventually became a full-time trainer.

He used his life experiences to develop his unique approach to dog training, he said. He said all actions results in consequences.

"Consequences for doing and consequences for not doing," he said.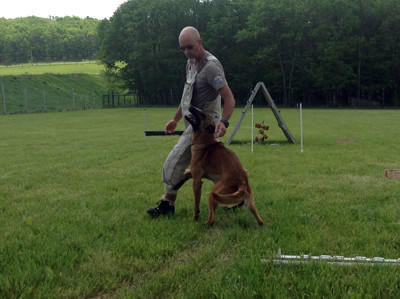 Bart Bellon performed a dog demonstration for guests at the International Conservation Center near Fairhope Thursday. Bellon was at the center conducting a training session for center guard dogs. Somerset Borough Police Department K-9 handler Brian Harbart also attended the training.

Bellon's unique approach includes having the dog in control, knowing that his action will result in an action by his handler.

During the demonstration Bellon used a 2-year-old dog that belongs to his friend. Bellon was able to get the unleashed dog to walk on either side of him and between his legs, bark on command and complete bite work exercises. After the dog was finished, he calmly visited with spectators. He said police departments are trying to find dogs with similar temperaments because of the reduced risk to the public.

Throughout the demonstration Bellon compared rewarding the dog to giving him money. The money was a small ball.

"People make the mistake to reward every second," he said. "You must find a balance."

Baker said he would like to have Bellon at the center annually to offer dog training to the public.

"All of the theory can apply to any dog, any animal, and the management of humans," Baker said. "That's the magic of it."

He said Bellon's weeklong training sessions are in high demand.

"He's not always available so people travel far when (he is)," he said.