Police help Katrina victims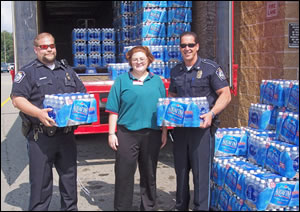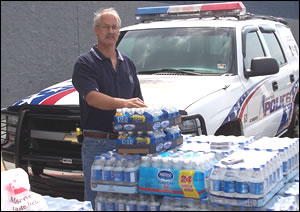 Officer Tony Novak and the Somerset Borough Police Department collected water for the victims of Hurricane Katrina on Sept 17.
They also raised $1,100 to pay for the gasoline to send the water to
Slidell, La.

The water they collected went to the Slidell Louisiana Police department. Slidell is approximately 40 miles away from New Orleans. The department has 110 police officers.

During their drive, the officers collected 800 cases of 12-16 oz bottles of water. A.J Walker of Walkers Farm SVC added six pallets of one gallon jugs of water collected at his site. Novak was pleased with the response.

"Overwhelming, fantastic," Novak said. "Individuals would come up and buy anywhere from one case to five and six cases. I was tired after the end of the day, which was a good tired. Sometimes you feel good when your tired
doing something like that."

Novak said the Somerset officers volunteered their time to help gather water at the collection sites.

"The department came out in full-force to assist with this," Novak said.