New equipment reduces police procedure workload
By MICHELLE GANASSI
Daily American Staff Writer
Friday, September 19, 2008 5:59 AM EDT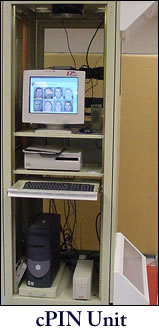 Municipal police departments in Somerset County will now have a central booking station thanks to a $70,000 grant received by the Somerset Borough Police Department. The department has acquired a Livescan machine, which digitally records fingerprints, and a CPIN photo imaging network machine, which records mug shots and has the ability to recognize faces.
"The law requires people who are arrested for certain charges to be fingerprinted and photographed," President Judge John Cascio said. "This is a process that allows that to be done digitally, making it easier to collect that data and have it available for other police agencies to review. This should be an awful lot easier on the departments." The Livescan device digitally collects fingerprints and then transmits them to the Pennsylvania State Police Central Repository in Harrisburg. Criminal history information and identification is transmitted back within six minutes. "It's twice as fast as the old way," Somerset police Chief Randy Cox said.
The CPIN device will help departments collect mug shots, set up photo arrays and complete criminal background checks. The device is connected to a database, housed in Harrisburg, which collects photos from several states in the mid-Atlantic region. The software uses facial recognition to identify suspects. "Even if they had a big beard and now they are clean shaven it will still recognize the face," Cox said.
While the equipment was paid for by grants from the Pennsylvania Commission on Crime and Delinquency and Administrative Office of Pennsylvania Courts, the $13,000 a year maintenance fee was too much for the borough to handle. "We almost had to turn it down," Cox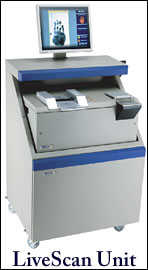 said. "The hitch we ran into was the $13,000 a year." Cox approached the county
commissioners, District Attorney Jerry Spangler and Cascio and the group came up with a solution. The cost will be paid through a processing fee added to defendants' court costs. A flat fee will be set once new legislation is passed regarding court costs, Cascio said.
Other local municipal police departments will also use the machine for processing. When police officers bring suspects to the Somerset County Jail, they will first stop at the Somerset police station. The state police also have the equipment, but cannot make it available to other police departments.
Individuals who are sent summons to appear in court will need to make their own arrangements to stop at the police department for processing. "They will have to come to Somerset eventually to come to court," Cox said. "They can be processed then." Cox discussed the new system during the Somerset County Boroughs Association meeting Thursday night.
Michelle Ganassi can be reached at michelleg@dailyamerican.com.
Comment on this story online at dailyamerican.com.
Posted 09-29-08