Drug drop-off box installed at Somerset Police Station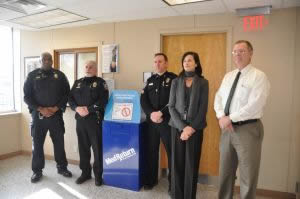 Somerset Borough police Officers Greg Hall, Phillip Staib and Sgt. Steve Borosky, District Attorney Lisa Lazzari-Strasiser and police Chief Randy Cox stand next to the new PA MedReturn box, which is located in the lobby of the Somerset Borough Police Department. The box allows residents to anonymously deposit unused, unwanted and expired medications.
MICHELLE GANASSI
Daily American Staff Writer
Monday, January 13, 2014
Somerset County residents now have a safe way to dispose of old medications year-round.
Somerset County District Attorney Lisa Lazzari-Strasiser and Somerset Borough police Chief Randy Cox unveiled a PA MedReturn box Monday.
The box was awarded to the District Attorney's Office through a grant program partnership between the Pennsylvania Department of Drug and Alcohol Programs and the Pennsylvania Commission on Crime and Delinquency. Statewide the grant was for $100,000.
In past years Somerset County held two drug disposal days a year for residents to dispose of these items. The box will be located in the lobby of the Somerset Borough Public Safety Building, 340 W. Union St. It is accessible from 8 a.m. to 4:30 p.m. on weekdays.
Lazzari-Strasiser said most people do not realize the danger in keeping expired or unused prescriptions in their cabinet. She said it is dangerous to the water supply to flush or throw these items in the trash.
"It gives you the ability to get rid of it," she said.
Large quantities of prescription drugs and over-the-counter medications could also make a home a target for burglars.
"We also hope this brings recognition to the drug abuse problem," she said.
The program is also designed to prevent prescription drugs from falling into the hands of children and teenagers. Cox said some kids were taking old prescriptions to school and trading them at the lunch table.
Cox stressed that the disposal is completely anonymous. No one will be questioned when they drop off prescriptions.
"I think it will be very successful here," he said.
Cox said the most abused drug in the county is either heroin or prescription drugs, depending on the day. Cox said the box should work much better than having a twice-a-year drop-off.
"It takes the disposal burden off of us," he said.
Lazzari-Strasiser said her detectives will empty the box at least once every 30 days. They will record the drugs and safely dispose of them.
The boxes accept prescription and over-the-counter solid medications (tablets and capsules), liquid medications, inhalers, creams, ointments, nasal sprays and pet medications. Intravenous solutions, injectables and needles are not accepted.
The initiative will fund up to 250 secure MedReturn boxes throughout the state.
Visit the Daily American Website