Somerset police ready for Motorcycle Patrols
BY KECIA BAL
The Tribune-Democrat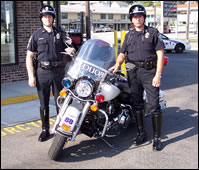 Aaron Folton and Steve Borosky, the two current motor officers
SOMERSET — As early as next week, the borough may be patrolled in part by a purring police motorcycle unit. Borough police expect their Harley-Davidson Road King to arrive any day, Chief Randy Cox said, and Officers Stephen Borosky and Aaron Folton are ready to ride.
The new patrol will work on a six-month trial basis. After that, borough officials and police will decide whether to front $15,000 to buy the bike from Highland Harley-Davidson or return it at no cost. "The trial period is a no-lose situation for the borough," Cox said. He estimated that, in a six-month period, the bike could save the borough more than $1,700 in gas, since the Harley gets 76 percent better gas mileage than the department's cruisers.It also will reduce the strain on the cruisers, he said, and give officers greater freedom in congested traffic.
The borough invested less than $700 in riding equipment such as boots and helmets and, if the unit becomes a permanent fixture, the two officers likely would undergo training.
"The whole thing about the trial period is that it gives us a chance to try it out, and save money at the same time," Cox said.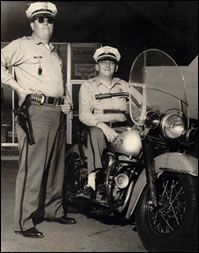 Officers Earl Thomas and Harold "Hoagie" Hoggard from the mid-sixties, the last time that Somerset had a motorcycle patrol.
Revving up cops on wheels
Motorcycle patrols save cash, push PR
The Tribune-Democrat
Somerset Borough is joining a growing number of area municipalities instituting motorcycle patrols. And in Somerset's case, taxpayers are getting a free ride for the first several months. What a deal.
Highland Harley-Davidson in the borough is allowing the police department to use a 2007 cycle for six months before deciding whether to buy the approximately $18,000 bike or return it at no cost. It sounds like a win-win situation.
Posted 8-31-06