Stickers designed to ward off Somerset Borough peddlers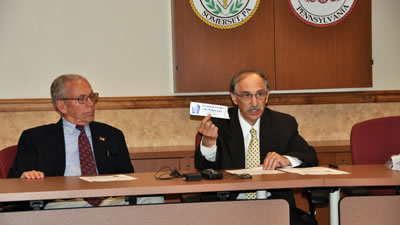 Somerset Borough Mayor William Meyer and borough Manager Benedict G. Vinzani Jr.
announced Monday July 26, 2011 that stickers are available for borough residents to
warn peddlers that they are not permitted on their property. (Michelle Ganassi)


MICHELLE GANASSI Daily American Staff Writer
www.dailyamerican.com
9:00 p.m. EDT, May 23, 2011
SOMERSET BOROUGH—
Somerset Borough residents have a new tool to keep unwanted knocks from their doors.

Somerset Borough Mayor William Meyer and Manager Benedict G. Vinzani Jr. announced during a press conference Monday that the borough is providing "No Solicitors or Peddlers" stickers for use on borough residents' doors.

The free stickers are available at the Somerset Borough office and Somerset Borough police station.

"It's small enough that it won't interfere with the aesthetics of the property," Vinzani said.

In 2010 21 people applied for peddler permits to sell in the borough.

"We feel this is an important first step," Meyer said.

Vinzani said the borough has been reviewing its ordinance for peddlers and found that it was vague and did not address residents' complaints. He said police Chief Randy Cox came up with the sticker idea.

"Last year was a big year for complaints," Meyer said.

Under the current borough ordinance anyone — including people from charitable organizations — needs a permit to go door to door selling items in the borough. Meyer said fees are typically waived for charitable organizations.

Vinzani said peddlers will sign a form when they apply for a permit noting that the sign indicates that the resident does not wish to be bothered. If a peddler fails to obey the sign, criminal trespass charges could be filed. Residents are asked to stop conversations with an unwanted peddler and call police if an incident should occur.

Borough officials are examining the ordinance and plan to make some changes, such as establishing time periods during which peddlers can visit people's homes. Peddlers pay $25 to be allowed to solicit for a month. Officials are talking about limiting the time a permit is valid.

"We're still going to rework the ordinance to get a little more teeth into it," Meyer said.

Meyer said that people should ask a peddler if they have a permit, and if they don't they should contact police.
SAMPLE STICKER