Police dogs are powerful, expensive weapons
ALYSSA CHOINIERE Daily American Staff Writer, Daily American
9:46 p.m. EDT, April 7, 2013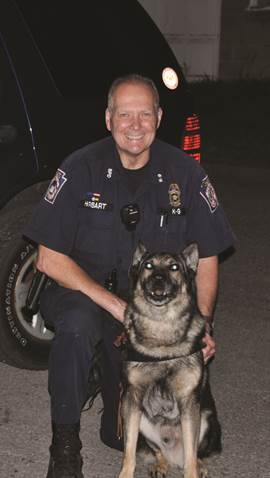 SPD K9 Team – Officer Brian Harbart and Arny
A police dog is a powerful weapon to be handled with care, according to Somerset Borough K-9 Handler Brian Harbart.

K-9 Arny joined the Somerset Borough Police force in 2005. He is the only active fulltime police dog in Somerset County. Paint Township police also has a K-9 unit.
Berlin Borough police Sgt. Chad Salley approached Berlin Borough Council in March about adding a dog to its department. Berlin Mayor Troy Glotfelty said the dog would be a good way to fight drugs in the borough, but is an expensive proposition.

"When you look at the dog, there are so many things you need to look at. There are so many pros and cons," he said. "As a mayor, I feel there are probably more priority things that need to be done before a dog needs to be purchased."

This would include adding more officers, he said. But the final decision belongs to the borough council. Council members said in March they wanted to do more research before making a decision.

Somerset Borough Police Chief Randy Cox said the initial cost for Arny, his training and equipment was about $15,000 in 2005. Expenses included a fully-equipped car with a kennel.

"We were fortunate that our fleet was large enough to handle it. We basically had an extra car," he said.

He said a police car costs about $30,000. A second car is a back-up unit that can be easily modified to handle Arny.

Other initial costs include a rugged uniform and training aids. Cox said Arny requires special food, which costs $50 for 35 pounds. The food and veterinary care are donated to the department.

Other costs include frequent overtime for the handler and a mandated salary increase.

"Because of the nature of the K-9 unit, there tends to be a lot of overtime attached," he said.

Harbart and Arny attend training in Westmoreland County at least semi-monthly, he said.

The K-9 unit costs the department about $5,000 each year, Cox said. The department was able to add the dog to the department because of continuing donations from local entities.

"The bottom line is, it's an expensive proposition," Cox said.

Harbart said it is possible, but not necessarily advisable, to get a discounted dog.

"The old cliché, 'You only get what you pay for,' is very true," he said.

American-bred dogs are cheaper, but less aggressive. He said in the Czech republic, dogs are bred for aggression. He said breeders select the alpha male and alpha female in a pack. When puppies are born, they are monitored for behavior. The most spirited puppy, the one who eats his siblings' food, for example, is selected for training. Harbart said Arny is especially aggressive and has a very strong nose.

After Arny was shipped to America, Harbart and Arny trained together. Harbart learned commands in Czech and how to handle the dog while Arny learned how to sniff out drugs and tracking. The training requires re-certification twice each year, he said.

He said Arny can sniff out empty heroin packets and drugs hidden in furniture. He can find five objects hidden in a 30x30 foot square in about three minutes. He can smell 250 times better than humans and has 60 percent peripheral vision. His bite can exert 700 to 800 pounds of pressure.

He said Arny is a wonderful deterrent to handle drugs and altercations.

"When that dog shows up, the situation is basically over," he said. "You will never ever ever outrun a dog like that."

He said he thinks Arny can continue working for two to three more years.

In Meyersdale, a police dog, Uro, was a part of the department for about seven years in the late 90s and early 2000s. Ron Ackerman was police chief at the time.

He said they spent about $10,000 on the dog. The purchase required buying a new police car.

"The dogs are great. They definitely do their jobs. But the dogs are very expensive and it's expensive to keep them," he said.

He said the department did not receive any grants to pay for the dog.

"I don't believe a small borough like Meyersdale can afford it anymore," he said.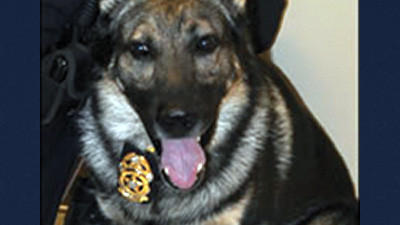 Somerset Borough Police K-9 Arny wearing a badge. Arny joined the police force in 2005.
His handler is Officer Brian Harbart. (Submitted photo / April 7, 2013)