Area Service Clubs Support SPD Training Effort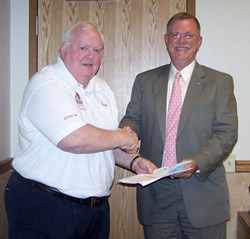 Fred Rosemeyer, Treasurer of Somerset Fraternal Order of Eagles 1801, presents a check to Somerset Borough Chief of Police Randy Cox that funded the full tuition of one of two Somerset Police officers to attend Penn State's POLEX. The Eagles were one of several Somerset service clubs that made donations towards the tuition of the two officers.
When presented with an opportunity for SPD officers to attend one of the premier police administration training programs available for lawenforcement, there was only one obstacle… paying the tuition. Penn State's Justice and Safety Institute (JASI) has been providing its Police Executive Development Training Program (POLEX) on a national basis for several years, and the need for such training clearly remains. POLEX is designed to aid law enforcement supervisors and managers in their transition into positions of greater leadership and responsibility. This newly remodeled and flexible program highlights vital tools necessary to help make law enforcement professionals an integral and productive part of the management team. The intensive course places an emphasis on the development of skills and abilities in all sectors of police management.
The opportunity arrived late in the budget year and presented the challenge of funding the training without adversely affecting the department's other training efforts. Thanks Somerset service clubs, including the Eagles, Rotary, Exchange Club and the Somerset Masonic Lodge, OICs Rich Appel and Steve Borosky were able to begin their POLEX training experience. The officers have completed their first week of training and will complete the first phase of POLEX in October. Plans are already underway for SPD to host the next phase, Advanced POLEX, in late winter of 2013.
OICs Rich Appel (l) and Steve Borosky have already completed the first week of POLEX and will complete the first phase in October. They will attend Advanced POLEX in early 2013.
Posted 10-04-2012