Police monitor drivers for sobriety


By MICHELLE GANASSI
Daily American Staff Writer
Saturday, January 14, 2006 12:42 AM CST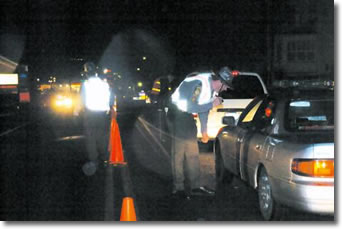 State Police Troopers stop cars and ask drivers for their licenses, registration and proof of insurance Friday at a DUI checkpoint. (Staff photo by Michelle Ganassi)
SOMERSET -The state police and Somerset Borough Police Department, in an effort to curve drinking and driving, set up a DUI checkpoint Friday evening.

The checkpoint was established on state Route 31, near Sears and Giant Eagle. State Police Cpl. William Link said they chose the area based on traffic flow and accidents. People who traveled through were asked for their license, registration and proof of insurance. The drivers are given information on drinking and driving before they leave.
Around 8:30 p.m., they made their first DUI traffic stop. A man was asked to exit his vehicle and take a breath alcohol (PBT) test. After the man blew approximately twice the legal limit, he was asked to complete two field sobriety tests. Officers arrested the man and transported him to Somerset Hospital.

Cpl. Ed Thomas, who stopped the vehicle, said he could smell alcohol in the vehicle and asked the occupants if anyone was drinking.

"Whenever he pulled up, I could detect the odor of alcohol," he said.

He asked the man again, and he admitted to having one drink. He believes the man was from Pittsburgh and the passenger passed the PBT test and drove his vehicle to the hospital.

Thomas explained they need to get a chemical blood-alcohol test because the PBT test is not admissible in court.

Link said the last time they set up a DUI checkpoint they did not make any DUI arrests. He added there were not any DUI related crashes or fatal accidents the following weekend.

(Michelle Ganassi can be contacted at michelleg@dailyamerican.com.)
---
Police have busy night at checkpoint for DUI
By KECIA BAL
The Tribune-Democrat
SOMERSET - Published: January 13, 2006 11:52 pm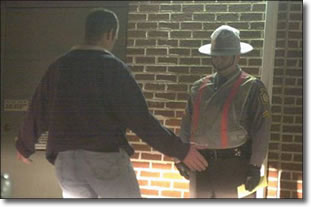 State Trooper Ed Thomas administers field-sobriety tests to a motorist Friday night at a DUI checkpoint on Route 31 just inside Somerset Borough. Dave Lloyd/The Tribune-Democrat
Jim Stamos and his family packed up their bags and skis Friday and headed toward Hidden Valley Four Seasons Resort for a long weekend.

But he had to make a quick, unexpected stop in the borough first.

When state police Cpl. William Link leaned into his window and asked whether he had been drinking, Stamos knew the drill.

"I think they're doing the right thing," said Stamos, 26, of Beaver. "But, I'm a police officer myself.

"The crackdowns seem to be a big deterrence."

Friday's DUI checkpoint, just inside borough lines on Route 31, was the second since state police began a new routine, rotating every five weeks between Somerset and four other county barracks in the regional troop.

The first round of stops was on North Center Avenue at the line between the borough and Somerset Township, and it was the weekend after Thanksgiving.

This time, troopers and borough police targeted another heavily traversed road on one of the biggest ski weekends of the year.

"We take that into consideration also, but we also use figures that show the volume of crashes," Link said.

Statistics show the peak time for drunken driving in the county is Friday evenings until 1 a.m. Saturday. Troopers and borough officers set up flares and traffic cones around 8 p.m. Friday.
By 8:30, state police Cpl. Ed Thomas pulled over the first suspicious driver. "I could detect the odor of alcohol on his breath, so I asked if he had anything to drink," Thomas said. At first, the motorist denied drinking, but then said he had one. Troopers administered a breath test for alcohol, and the Pittsburgh man allegedly was more than twice the legal limit.

Next, Thomas had the man do field-sobriety tests: Hold his leg up for a number of seconds and then walk along a straight line. Officers arrested the driver and took him to the hospital for a blood test. Less than 30 minutes later, borough officers administered a second breath test and then a third within the next 10 minutes.

Judging by the first hour, it looked like it might be a busy night for on-call District Judge Susan Mankamyer of Boswell. That would be in stark contrast to the last sobriety checkpoint, which led to no drunken-driving arrests, Link said.

"We also had no DUI crashes or fatalities that weekend," he added. "Hopefully, (the checkpoint) had something to do with it."
---
13th unlucky for drunks driving Friday
By DAN DiPAOLO
Sunday, January 15, 2006 10:55 PM CST Daily American Staff Writer
A joint police driving while under the influence checkpoint and roving patrol made Friday the Thirteenth unlucky for three area motorists driving drunk on state Route 31.
State police and Somerset Borough police officers conducted their second operation in the last three months, stopping 430 vehicles traveling both ways on Glades Pike from 8 p.m. to 12 a.m.

Three drivers were arrested for DUI, 10 were given field sobriety and portable breath tests, 101 warnings were written and nine citations for other violations were issued.

The operation was part of the statewide police initiative to crackdown on drunken drivers. As part of the initiative, each of the 15 regional state police troops will conduct a sobriety checkpoint somewhere within the troop area every weekend for the next year.

This is the second joint operation conducted in the area since the program began. On Nov. 26, state police, Somerset Borough police and Bureau of Liquor Control Enforcement officers from the Altoona district office cooperated in the DUI checkpoint located in Somerset on North Center Avenue for vehicles leaving the city.

That checkpoint and roving patrol resulted in the arrest of three people, two for DUI and one on a criminal misdemeanor charge. That evening, more than 300 vehicles were stopped.

In the event of inclement weather, a troop may conduct roving DUI patrols rather than a checkpoint. Troops will also promote anti-DUI enforcement activities with municipal police departments.

The placement of the checkpoint was determined by combined use of data from the state police PROphecy program, PennDOT crash records and previous DUI arrests.

According to the state police Web site, the PROphecy program is a computer software application that helps troopers to map and categorize traffic crashes.

Alcohol-related crashes in Pennsylvania claimed 542 lives last year.

(Dan DiPaolo can be contacted at dand@dailyamerican.com.
Posted 01-17-06