Police helped rescue tenants
By KIRK SWAUGER
The Tribune-Democrat
SOMERSET — Somerset Borough police Officers Ruth Beckner and Chad Snyder weren't about to let municipal boundaries stand in the way of saving lives.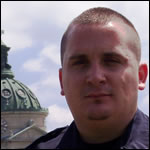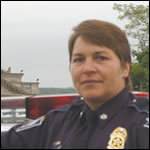 Summoned to assist state police for a deadly apartment-complex fire early Monday, the two were among the first rescuers at the blaze just across the borough line in Somerset Township.

Beckner and Snyder heard the frantic screams of three people trapped on a rear balcony, grabbed a ladder from a nearby construction area and whisked the occupants and a cat to safety, police Chief Randy Cox said, adding that Snyder carried one resident.

"This group of officers – it never surprises me," Cox said Tuesday, adding that Beckner and Officer Charles Santa rushed into a burning building two years ago. And Officers Steve Borosky, Tony Novak and Dave Deist talked a would-be jumper to come down from a fourth-floor window earlier this year.

"That just shows the quality of the people Somerset Borough has on their force," state police Cpl. William Link said. "I know both officers, and it's not uncommon for them to just lay it all out.

"We know they have good people and they're experienced police officers. Their main thing – like ours – is helping people."

Neither Beckner nor Snyder could immediately be reached for comment Tuesday.

David L. Tylka, 52, a tenant in a downstairs apartment, was killed in the fast-moving fire at Efficiency Apartments along North Center Avenue. Authorities said he died from smoke inhalation as he tried to seek refuge in his bathroom.

A state police fire marshal said the blaze, which caused an estimated $320,000 damage, began accidentally in Tylka's apartment. The cause of the fire has not been determined.
Somerset's heroes
Published: December 20, 2006 04:32 pm
Tribune-Democrat
Somerset Borough residents should be extremely proud to have police officers such as Ruth Beckner and Chad Snyder. The two were summoned early Monday to assist state police at a fire scene in Somerset Township.

Although a resident of the apartment complex died, the two officers were able to rescue three other people and a cat trapped inside. Snyder carried one resident to safety.

Beckner joined another officer in rushing a burning building two years ago.

Protect and serve?

You bet. And so much more.
Posted 12-21-06