Somerset Town Hall Meeting Combats Underage Drinking
BY KATIE WALKER
Daily American Intern
Wednesday, March 31, 2010 10:46 PM EDT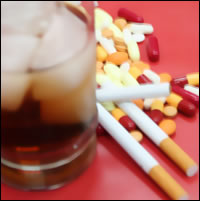 Shade-Central City senior Jeremy Nicholas shared stories with the public Wednesday about his adolescent drug and alcohol use.
"Be the change you want to see," he said.
Nicholas was just one of several attendees who spoke out against underage drinking at Somerset's town hall meeting. The gathering was held at the Grace United Methodist Church and was sponsored by the Somerset County Drug-Free Communities coalition and The Substance Abuse & Mental Health Services Administration.
The meeting was part of a national effort to prevent teen drug usage. Approximately 1,800 town hall meetings will be held nationally this week addressing adolescent drug prevention. Ronna Yablonski, who is the coalition's project director, shared some remarkable statistics regarding the dilemmas facing young adults today. According to Yablonski, 10.8 percent of youth ages 12 to 20 are consuming alcohol. Sixty-three percent of sixth-, eighth-, 10th- and 12th-grade students have tried alcohol at least once, and 50 percent of Somerset seniors have used alcohol in the last 30 days.
Yablonski thinks that parents are the ultimate authority on preventing teenage alcohol abuse.
"Teens say that they rely on adults more than anyone else for guidance," she said.
Nicholas followed Yablonski's opening remarks with his own testimonial. As a young adult, Nicholas often felt like he didn't fit in with his peers and longed for their support and friendship. He ended up making friends with a group of kids who got him into a lot of trouble when one gave him some pills. Nicholas decided to take them to school and got caught with them in his backpack. Though he got into a great deal of trouble at the time, the Shade senior said that getting caught actually saved his life.
Since that time, Nicholas is reaching out to others and offering guidance in any way he can. He spoke with sixth-graders at Shade about the dangers of tobacco, drugs and alcohol. He met Yablonski, in fact, while at his guidance counselor's office and was excited to share his testimony at the town hall meeting.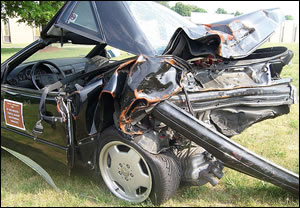 Jodi Kreger, a volunteer coordinator for Mothers Against Drunk Driving, also spoke about the problem of underage drinking. On Oct. 6, 2007, her niece, Elizabeth, was killed in a car crash as she was coming home from a date. Elizabeth, who was 18 years old at the time, had plans of becoming a psychologist at Kent State University in Ohio. Sadly, her life was taken by a driver whose blood-alcohol level was 0.274 when the accident occurred. Since that time Kreger has been actively involved in the MADD organization and the fight against drunken driving.
Two police officers were also in attendance at the meeting. Somerset Borough Officer Brian Harbart brought in his canine partner, Arny, to demonstrate how trained dogs can easily find drug paraphernalia within vehicles, clothing and buildings. Harbart thinks that Somerset's central location makes it a key destination for many drug sellers.
"The turnpike is the gateway," he said. "You're getting a lot of people from cities — Harrisburg, New York, Pittsburgh — who are coming in and raising hell on the weekends.
" Cpl. William Link, who is a state trooper, agrees with Harbart on the issue.
"We have a duty to educate and prevent," he said at the meeting. Link encourages parents of teenagers to regularly check their children's social networking sites and phones for suspicious pictures or other warning signs that they may be involved in drug use.