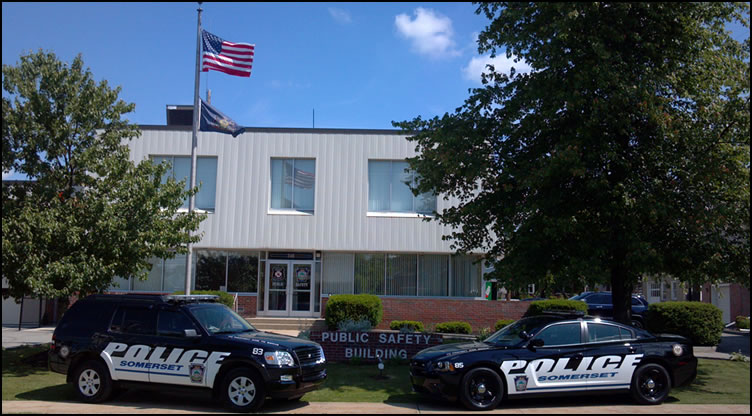 LATEST NEWS |
Somerset council meets new K-9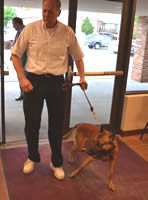 K9 Ajay visited the May meeting of the Somerset Borough Council to be introduced and was quite the hit.  Ajay, who has been residing with his new partner, Officer Brian Harbart, and his family for the past ten days is just beginning the narcotics phase of his training.  He should complete the last phases of training, including aggression, tracing, tracking and article search before summer's end.  Read More >>

As we welcome Ajay, let us pause to remember K9 Arny who paved the way.  Click here to see more about Arny.
DEPARTMENT UPDATES |
2015 D.A.R.E. Graduation St. Peter's Catholic Schools
St. Peter's Catholic Schools 5th grade class recently became D.A.R.E. graduates.
Officer Takes Oath of Office
Somerset Borough Police Officer Brett Stanga, having finished his field training with Somerset Borough
Police Department, takes his Oath of Office in front of
Borough's Council at the recent meeting.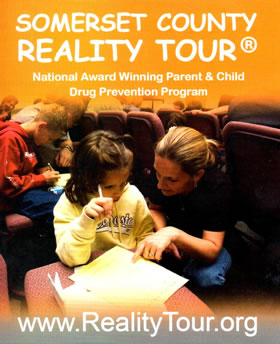 Flyer .JPG Front - Back
Flyer .PDF
| | | |
| --- | --- | --- |
| | | |
| | The Somerset Area Business Person's Guide to Robbery & Suspicious Incidents is available at the Police Station. | |

NAR-ANON FAMILY GROUPS
We are writing in an effort to increase awareness of Nar-Anon Family Groups. Our program may be beneficial for those family members of addicts. We know the disease of addiction can affect the family members and friends of addicts, physically, emotionally and spiritually. Nar-Anon provides support and hope to those in despair because of a relative or friend's addiction.
 
Nar-Anon Family Groups is a twelve step fellowship that offers a recovery program for those affected by someone's addiction. The only requirement for membership is that there be a problem of addiction in a relative or friend. In our group meetings, we share our experience, strength and hope to help each other and ourselves. 
 
It is devastating for a parent, spouse, sibling or friend to learn that their loved one is an addict. In Nar-Anon, we have found that the consequences of an addict's drug use may include an arrest, conviction, jail time, or prison sentence. With the support of others who have gone through the pain of watching a child, spouse, other family member or friend destroy their lives with drugs, we find the strength and courage to stand aside and let the addict face those consequences.
 
Nar-Anon Family Groups bring renewed hope and confidence through the Nar-Anon selfhelp program to thousands of people whose lives have been adversely impacted by another's addiction.
Our first meeting will be held on Monday, April 20 from 6:00-7:30pm at the Freedom In Christ Community Church located at 117 W 1st Street, Somerset, PA 15501 (beside Linda's Dance Studio).  Our meetings will be held every Monday, same time and place thereafter.
Please contact us for more information. We are available to answer questions or concerns. Thank you for your interest and assistance in providing this information to family members and friends of addicts.

Sincerely,
Kris Kreger
StillwatersNAFSG@gmail.com