National Night Out 2008

13th year proves lucky for Somerset Night Out
By BRUCE SIWY
Daily American Staff Writer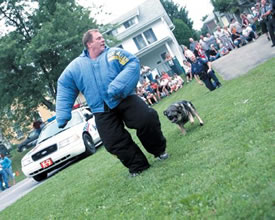 Officers Charlie Santa, "Arny" and Brian Harbart demonstrate the futility of running from the law in a demonstration during Somerset Night Out activities at Union Street Playground Tuesday evening. (Staff photo by Roger Vogel at the Daily American)
Wednesday, August 6, 2008 12:16 PM EDT
The number 13, normally associated with misfortune, may have proved to be good luck at this year's Somerset Night Out.
Looming rain clouds and storm forecasts weren't enough to dampen what event coordinator Charlie Santa said was the usual good turnout for Tuesday's 13th annual borough event, which was held again at the Somerset Community Park.
"The community really supports this," he said, drenched in sweat after shedding the 35-pound suit from the K-9
demonstration. "The block party is designed to bring people together." District Judge Art Cook said this support is one way residents have shown pride in their area. "Somerset County is one of the safest counties in Pennsylvania," Cook said. Borough Mayor Bill Meyer said he thinks it's great to see people show an interest in their community. "If we all work toward a common goal, we'll continue to have a great community," he said.
The event, which began at 6 p.m., included face-painting, balloon animals and a magic show for children. Many in attendence also played games of football-toss and miniature-golf putting.
Santa, a student resource officer with Somerset Borough, donned the protective suit at 7 p.m. for a police dog demonstration. As Arny, the police dog, bit into Santa's padded suit arm, Officer Brian Harbart addressed the crowd by microphone and explained the canine's abilities. "If he gets a hold of you, wherever he does, you wouldn't have a chance to break away," he said.
Santa said this was the first year that featured live music. Blackburn Road, a Friedens-based group, played Christian rock music starting at about 8 p.m. Throughout the evening, more than a dozen agencies had set up tables to distribute information. "It's good to let everyone know what agencies are out there and what all's available," Santa said. County Coroner Wallace Miller said exposing people to the services and information about the area's agencies is one of the purposes of the event. "People need to stay safe not just by avoiding crime, but by taking care of our bodies and making smart decisions," he said.
Following Blackburn Road's performance, police and emergency vehicles led a neighborhood procession through the town. Santa said he credits the many volunteers, and donations from both private individuals and businesses, for the event's sustained success over more than a decade. "It's really the people, agencies and businesses that make this happen," he said. "I just coordinate it."
(Bruce Siwy may be contacted at bruces@dailyamerican.com.
Comment on the online story at dailyamerican.com.)
WE WOULD LIKE TO EXTEND A SPECIAL THANKS TO EVERYONE WHO HELPED
TO MAKE THIS YEAR'S EVENT A SUCCESS!

ACRP
The Humane Society of Somerset County
Adult Literacy - SCTC
Bedford-Somerset MH/MR Services
Boys & Girls Club
Businesses That Displayed Our Posters
Children and Youth Services
Citizen's Police Academy
Sugarbush Classic Car Club
The Community of Somerset
D.A.R.E. Program
Denise Dandrea & Donna Jordan
Joe & Joan Kopsic
Local & Visiting Police Departments
Med Star Helicopter
Officer Phil Program

Playground Staff
Somerset Ambulance Association
Somerset Borough Police Department
Somerset County Blind Center
Somerset County Sheriff's Department
Somerset Daily American
Somerset Hospital- Community Connections
Somerset VFD
Our Speakers
Pa. State Police County & Turnpike Barracks
Twin Lakes Rehabilitation Center
Victim Services
The Village at Somerset
Pa. Moose Lodge
Tableland Services
All our wonderful Volunteers

DONATIONS WERE MADE BY THE FOLLOWING:

American Legion
Ameriserv Financial
Angelitto's Hair Salon
Attorney William Seger
Attorney Matt Zatko
Arby's
Barbera & Associates Attorneys at law
Berkebile Oil Company
Bi-Rite Beverage
Boyer Realty
Bruster's Ice Cream
Buck DeWitt Construction
The Chuck Wagon
Domino's Pizza
Dr. Antoinette Botti
Dr. Shafer
Dumbald Tire
Eat-N-Park
Fox's Pizza
Frank's Pizza
Fraternal Order of the Eagles
FNB (Consumer Discount Company)
Giant Eagle (N. Center)
Giant Eagle (Rt. 31)
Peter T. Go M.D.
Herring Motors
Italian Oven
Jeffery Johnson CLU
Kiwanis Club
Lamonica's Restaurant
Lincoln Supply
LaRue Meat Processing

Donald & Margaret McCune
MH/MR Services
Mosholder Insurance Agency
Mountain Boss Hoss Cycles
Oakhurst Tea Room
Pappa John's
Pine Grill
Pit Stop Beverage
Pizza Hut
Rascona Physical Therapy
Rhoads Mini Mart
Saylor Motors
Sechler Insurance
Seven Springs Resort
Sheetz (E. Main)
Sheetz (N. Center)
Sheetz (Rosina)
Snyder's of Berlin
Somerset Area School Dist.
Somerset Door and Column
Somerset Drug Co.
Somerset Candy Company
Somerset Cardiovascular Associates, P.C.
Somerset Galleries
Somerset Sports Car Sales
Somerset Trust Company
Stahl's Jewelry
Stair's In-town Restaurant
The Medicine Shoppe
VFW
Wheeler Bros. Inc.
Wide-Lo Beverage