Arny makes first official drug bust
By MICHELLE GANASSI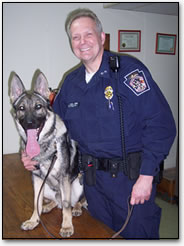 Daily American Staff Writer
Thursday, March 30, 2006 11:57 PM EST
On his first official day on patrol, the Somerset Borough Police Department's drug dog was instrumental in a drug bust Wednesday afternoon.

Officer Brian Harbart and his dog Arny were getting ready to go home when they received a call to help another officer. Police were serving a warrant in Village Way , Somerset , when officers became suspicious that illegal drugs were in the residence, according to a police press release.
Within minutes of Arny's arrival, he completed a drug detection sweep and discovered an undisclosed amount of suspected marijuana underneath a child's dresser. Arny also discovered money infused with drug odors, police said.

Police took four people into custody and could file charges against at least two once state police analyze the substance. Two of the four are Somerset women and the other two are men with Pittsburgh addresses, police said.

Police Chief Randy Cox said the officers were proud of Arny and his handler.

"For a while, he (Harbart) had an idea of what Arny's capabilities were," he said. "He was given a chance for other people to see (Arny's) abilities" Wednesday.

Police estimated that it would have taken four to five hours to search the house without Arny's help. They had the suspects in handcuffs and the evidence packaged in an hour.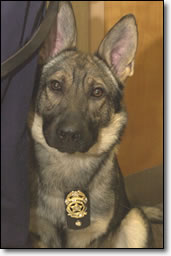 "And there still would have been no guarantee that we would have found the suspected marijuana," Officer-in-Charge Rich Appel said.

Arny's presence drew a lot of attention and hopefully will deter people from bringing drugs into Somerset , Cox said.

"The whole neighborhood got to see what was going on," he said.

Arny was brought to Somerset through a community-based effort that resulted in funding from Somerset Hospital , Somerset County , Somerset Health Services and the Twin Lakes Center .

In April, Arny and Harbart will return to training with K-9 Master Trainer Bill Sombo, Strategic K-9 Law Enforcement Training Inc., to receive tracking, suspect location and apprehension and defensive training. The training will take up to two months.

At its conclusion, Arny will return to duty as a fully certified police canine.

(Michelle Ganassi can be contacted at michelleg@dailyamerican.com.)

Somerset Borough Police Department, PO Box 71, 340 West Union Street, Somerset, PA 15501, 814-445-4596