Somerset mayor swears in canine unit
By ROB GEPHART
Daily American Staff Writer
Tuesday, March 28, 2006 12:24 AM EST
The new members of the Somerset Borough Police Department both came to Monday's borough council meeting with their families. The mayor introduced them to the council, and the police chief gave their families certificates to honor the service they were about to begin providing Somerset .

One officer made it through the ceremony without barking. The other didn't. But hey, give Arny, the police department's new canine unit, a break. After all, he's only 16 months old and still in training.

Officers Michael Gray and Brian Harbart were both ceremonially sworn into duty at the meeting - Gray as a new officer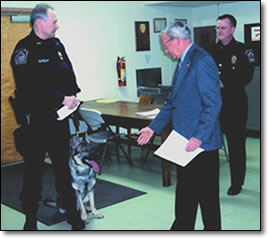 Somerset Borough Mayor William Meyer extends his right hand to offer the police department's new canine unit, Arny, a pretend handshake, just after administering the canine handler's oath to Officer Brian Harbart, left, as Police Chief Randy Cox, right, looks on. (Staff photo by Rob Gebhart)
and Harbart as a canine handler. The ceremony is a new tradition for the borough council and police department, conceived of by Police Chief Randy Cox as a means to properly introduce new officers to the community and to make their entrance onto the force memorable for them and their families.

Cox used the meeting to recognize the community members who made it possible to bring the canine unit to Somerset . Arny's arrival marks the first time in 15 years that the borough has had its own police dog.

"The support of the community for this dog has been unbelievable," Somerset Borough Mayor William Meyer said.

Cox and Meyer credited Somerset resident Mark Miller with being the driving force behind bringing Arny here. Cox said Miller saw a drug dog demonstration last August and immediately asked Cox why such a dog didn't work in Somerset .

Cox told him it was because it takes $15,000 to fund a canine unit for one year, and the borough didn't have the cash.

"Mark Miller beat the bushes and came up with the money," Cox said.

The borough also recognized Bob King of Single County Authority, the agency that disperses government funding earmarked for drug intervention and treatment, Mike Farrell, chief executive officer of Somerset Hospital, Animal Medical Services and the Tractor Supply Store for helping to bring the canine unit to Somerset.

Arny has been on patrol for one week already. During a vehicle search, he scented out some marijuana seeds, Cox said. At the end of April, Arny will attend patrol training.

Officer Gray has been serving on the borough police force for several weeks, Meyer said. He has previously worked as a police officer in Hampton , Va.

Despite the addition of Gray, the police department is still missing one officer, Meyer said. The department is hoping to add one more officer to fill its patrol schedule.

(Rob Gebhart can be reached at robg@dailyamerican.com.)

Published: March 27, 2006 11:29 pm
Somerset Borough welcomes K-9 unit
By KECIA BAL
The Tribune-Democrat
SOMERSET —
Borough council members made their next move toward building a new municipal building – which could cost about $800,000. But the canine stole the show at their meeting Monday night.

A crowd gathered to watch Borough Mayor Bill Meyer swear in the borough's new K-9 unit, Officer Brian Harbart and a German shepherd named Arny. Meyer also swore in a another officer, Michael Gray, who has been on the job about two weeks.

Josh Wagner, 9, was so excited to see the dog that he had a hard time being quiet in the municipal building hallway before the meeting.

"I want to be a cop when I grow up," he said, showing his home-made T-shirt that said: Harbart 'n' Arny. "I work with a dog, and I want to work with Officer Ruth (Beckner)."

Beckner had arranged for Harbart to take Josh along for a ride, and the third-grader has been sold on the profession ever since.

Josh stood by to take photos as Arny accepted his badge and Harbart hung it around the 16-month-old puppy's collar.

Giving commands in Czech, the language used in the dog's training, Harbart introduced him to the crowd and council.

The dog has finished his narcotics-detection training and will begin patrol training before May.

Police Chief Randy Cox presented thank you certificates to Mark Miller, who orchestrated the K-9 funding, and several others who were instrumental.

The county, Somerset Health Services, Twin Lakes Center and Somerset Hospital are contributing $15,000 toward the establishment of the canine unit, officials said. The agencies also will provide $8,000 a year for maintenance of the dog, starting in 2007, an agreement stipulates. Tractor Supply also is donating dog food for life.

"I want to say 'Thank you' to the community," Cox said, and Arny gave three hearty barks.

The dog will be available to schools, other police departments and organizations countywide.

After the ceremony, council voted to request design proposals for a new municipal building across the street from the current Union Street quarters. The borough plans to move offices into the new building, and transform the current one into a public safety hub for the borough fire station and police offices. Borough Manager Ben Vinzani hopes to award a bid for the new building's design at council's April meeting.


Kecia Bal can be reached at 445-5103 or kbal@tribdem.com.

Somerset Borough Police Department, PO Box 71, 340 West Union Street, Somerset, PA 15501, 814-445-4596