By MICHELLE GANASSI
Daily American Staff Writer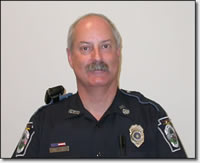 After 26 years with Somerset Borough Police Department Clifford Pile, officer in charge, retired June 21.
During his tenure with the department, he was a criminal investigator for 18 years, and one of the first officers-in-charge. He was a crime scene processing officer. He also was the department's dog handler when they had a
police dog and served on various task forces.
"Cliff wore so many hats," Police Chief Randy Cox said. "I could go on and on with everything he did and I am probably forgetting things because he did so much."
Pile said he enjoyed the excitement of the job and the satisfaction of helping others.
"Everyday is something different," Pile said. "There are some normal day-to-day functions, but it is rapidly evolving and fast paced. I wanted to do something to help people."
Pile said he enjoyed all the aspect of his career, but holds dear the memories of being the departments dog handler. "My fondest memories and the area I enjoyed the most was the years I spent as a K9 handler," Pile said.
Pile was devoted to each of his responsibilities. "Cliff was a dedicated professional," Rich Appel, criminal investigator said. "He was a dedicated police officer on the job and a dedicated family man off the job."
One of those hats was working in criminal investigations. Cox, who has worked with investigators on local, state and federal levels, was impressed with Pile's investigation talents. "He is probably the finest investigator I ever came across," Cox said.
Pile was instrumental in training of new hires. He coordinated all training and investigations aspects. Pile assisted in setting criteria for new hires and helped with background checks. "Every new hire who came into the department was trained by Cliff," Cox said. "He was very instrumental in the hiring process. Cliff was responsible for so much of the training, now there's a void there."
Appel said his careful training made him a great teacher. "He was a very close friend, mentor and colleague," Appel said. " He took the time to make sure what he was teaching you was getting across."
Pile said he had some great advisers and wanted to share the knowledge given to him throughout the years. "I had a lot of mentors thought-out my career," Pile said. "I learned a lot from those officers. It was a good feeling to be able to work with other officers and share my experiences and my knowledge."
Cox said Pile is missed by everyone in the department. Pile was not only a great officer, but a great person who made everyone laugh. "It brings tears to my eyes," Ruth Beckner, criminal investigator said. "He's a very special person and will always be. I enjoyed all the time I had working with him."
Beckner said Pile left shoes too big for another officer to fill. "I don't think anyone will be able to replace him," Beckner said. "Anytime you needed his help with anything he was always here."
His leadership abilities in the department set a great example for the other officers. "Cliff Pile is a lot of the things I strive to be or become," Appel said.
Always professional, Pile also took time to help others enjoy their job. "I'd like to describe Cliff as the ultimate person in true blue," Officer Tony Novak said. "Everything he did was professional, but he always made time to make the job enjoyable." Pile would sing in the criminal investigation office. Novak recalled starting his shift to Pile singing. "Cliff would be singing Mr. Blue Bird," Novak said. "It was just the way he did it that made the job enjoyable." Pile said he would sing in the office, but admitted he wasn't the best singer. "I do a little singing, but it's not very good," Pile said. "When you do something like that, pretty soon everyone starts."
Aside from teaching and humoring the department, Officer Stephen Borosky said Pile always brought food for his fellow officers. "He always brought in pies he would bake and Jell-O he would make," Borosky said. Borosky added every Christmas he would make "Vietnamese Eggs," a family recipe from Vietnam, for the entire department. "I made a big batch of those eggs and would bring them in," Pile said. His cooking abilities reached as far as Richland Police Department. He said he would have to make a batch for them as well. "I like to see the people I'm around eating and enjoying a good time," Pile added.
In the past eight months, three officers retired from the department. Pile, although eligible for retirement, was not expected to retire. "When Brad and Jim retired it wasn't a surprise to anyone," Cox said. "We just weren't expecting him (Pile) to retire right now." The decision to retire was a tough one for Pile. "It wasn't that I really wanted to," Pile said. "It was the hand that was dealt to me." In 2002 Pile was diagnosed with pancreatic cancer. After two successful surgeries, he was able to return to the job he loved. "I was very fortunate they were able to do surgery," Pile said.
Pile said he would go to chemotherapy and radiation in the morning before his shift started. This past April, his cancer returned and he had other health issues. "It was much more severe of an operation then the first two," Pile said. "I knew I was going to have another series of very potent chemotherapy."
Pile evaluated his decision and decided to retire from law enforcement. He wants to spend more time with his family and said he may continue to teach if his health allows. "I had my time in and I just didn't think I could give them 100 percent like I did before," Pile said.
Officers at the department are assuming his responsibilities. "We have talented, skilled, quality people here," Cox said. "I know they'll pick-up the slack. A number of people will share the workload of the things Cliff did."
(Michelle Ganassi can be contacted at michelleg@dailyamerican.com.)