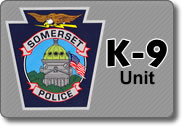 By MICHELLE GANASSI
Daily American Staff Writer
Friday, November 25, 2005 1:11 AM CST
The new additions to the Somerset Borough Police Department - canine and human - help officers "get back to basics."
"The new staffing, including the K-9 unit, will help us get back to basics with more patrol and more officer presence," said Somerset Borough Police Chief Randy Cox. "We're hoping this will free up officers and give them more time to engage in routine duties." Officer Brian Harbart will be the handler of the K-9 unit.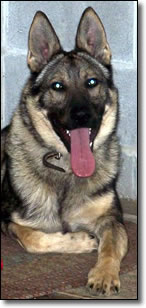 Cox said the first criterion was being a full-time officer. "No matter how good they are, a part-time officer can be gone tomorrow," he said.
He said the officers-in-charge would not have the time required to be a dog handler and the other full-time officer has a newborn at home. "It's so time demanding no one would be able to be a OIC and a dog handler," he said.
Harbart and his family are ready to give a home to one of the newest Somerset Borough Police Department members. "His wife and family are OK with that," Cox said. "Everybody's excited about it."
Cox said the dog will arrive within the next two weeks. The dog will have acclimation time with Harbart's family. The first training the dog will attend in early January is drug detection, and by May it will be fully certified. The dog will travel with Harbart when he is on duty. "Unless the dog is sick, they'll always be together," Cox said.
The department was able to get the dog because of donations from the community. "We were very fortunate people walked into the office and said they'd like to see a K-9 program here," Cox said. "A group of people from the community approached us with a method of funding it."
Somerset Borough Mayor William Meyer said the Borough needed a dog. "Times have changed," he said. "Back then you didn't need a dog like you do today. We felt the time was right for a dog."
Cox said the department has had 300 alarm calls, 500 disturbance calls involving combative persons and 24 officer needing assistance calls. He added the department has seven drug activity calls a month. During this time period a K-9 unit was only available once. "There's a definite void a K-9 unit would be filling," he said.
The Borough also approved the hiring of two new officers - one part-time and one full-time. "The full-time officer will be hired under Civil Service, council will have three names to consider," Cox said. "We're in the process of interviewing some folks who have their applications in for the part-time position."
Cox said he is hoping to have both officers hired by January. He said the issue of not having enough applicants for the position continues. "You used to have 30 applicants on file at any given time," he said. "Now we are way under 10 available people."
He said the officers have been asked to take on additional responsibilities. Routine patrol and traffic enforcement have suffered as a result. Cox said there has been a 20 percent increase in incidents and the crime rate has risen 14 percent. "In the past year, we have asked officers to do more things, small investigations," he said. "We reduced how many officers we had out there and traffic enforcement dropped."
Meyer said people do not realize the amount of work one call creates for an officer. "People don't realize it, but every time a guy punches his wife and she doesn't want to press charges there is still a ton of paper work," he said.
Along with more cars patrolling and more officers on foot patrol, Cox said he hope he can bring back the bike patrol. He explained it is hard when the department only has two officers on the street to put one on the bike. "We're constantly struggling with getting the bike on the street," he said.
(Michelle Ganassi can be contacted at michelleg@dailyamerican.com.)