Whether it is as simple as building a shed or deck, or as complex as a new home or addition, Somerset Borough realizes that there are many things to consider when undertaking a new residential construction project.
As always, if there are any questions, or additional information is required, do not hesitate to contact the Somerset Borough Inspection Department at 814-445-5595 between the hours 6:30am to 3:00pm Monday through Friday.
This permitting department is for the Borough of Somerset in Somerset County, Pennsylvania.
AS OF JANUARY 1, 2019
All permits regulated by the UCC are now handled by Pennsylvania Municipal Code Alliance.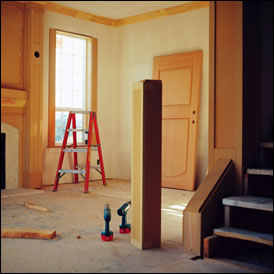 Pennsylvania Municipal Code Alliance
Somerset Office:
318 Georgian Place
Somerset, PA 15501
Phone:814-444-6112
Fax: 814-701-2785
Web Site: https://pacodealliance.com/
Email: pmcasomerset@pacodealliance.com
Below is a list that require permits in the Borough of Somerset.
New Homes
Additions to homes
Detached Garages (over 1000 square feet)
Garages - Attached or Integral
Decks, (over 30" from grade level)
Deck roof, Porch roof
Porches - with or without roof structure
Chimneys
Remodeling - Any remodeling or alterations of the house which involves changing the structure or supporting members, such as creating new window or door openings, as opposed to replacing windows or doors.
Roof - changes to the roof (such as adding dormers or in changing from a flat roof to a gable roof) A permit is not required for replacement of shingles.
Sheds - Utility sheds (over 1000 square feet)
Swimming pools - (in-ground pool and above ground pools that are over 24" deep which also includes the inflatable type of pools.)
Spas/Hot tubs - Indoors and outdoors
Finished basements - permits are required when new walls, doors, windows, bedrooms, or other passageways are created.
Installations to plumbing/mechanical/electrical. (No permit required for replacement of hot water heater).
Demolition (Asbestos Abatement And Demolition/Renovation Notification Form may be required).
Item numbers 9 – 10 – 15 do not require a application permit.
AS OF MARCH 26, 2019
The council of the Borough of Somerset has put into effect the Stormwater Management Ordinance, Ordinance No. 1379
The purpose of this Ordinance is to enact rules, regulations and procedures to manage and control stormwater in geographic areas within the jurisdiction of the Borough of Somerset in a manner consistent with the 1978 Coxes Creek Watershed Act 167 Stormwater Management Plan as adopted by Somerset County, Pennsylvania. 
Stormwater is any precipitation in an urban or suburban area that does not evaporate or soak into the ground, but instead collects and flows into storm drains, rivers and streams
An impervious surface is a surface that prevents the water from naturally soaking into the ground. Especially during hard rains, water runs rapidly into storm drains and drainage ditches and can cause flooding, erosion, storm and sanitary sewer system overflow, and infrastructure damage. An impervious surface includes, but is not limited to, any roof, parking or driveway areas, patios, and any new streets and sidewalks.
Stormwater management is the effort to reduce runoff of rainwater or melted snow into streets, over charging the storm sewer and infiltrating the sanitary sewer system.
Stormwater Management Ordinance # 1379
Other Permits that are required by the Borough of Somerset:
Borough of Somerset Building Inspections
Po Box 71 347
West Union Street
Somerset, PA 15501-0071
Fax: (814) 445-3931
Phone: (814) 445-5595.
Driveway
Sidewalk
Fence
Sign
Shade Tree
Stormwater Management
Water/Sewer Taps
Permit applications may be obtained at the Inspections Department in the Borough Building, 347 West Union Street or printed from our web site. The building inspector will review all applications for permits and determine whether the proposed work, zoning, and subdivision conform to various Borough Codes and Ordinances. If the codes and ordinances are met, a permit will be issued.

Larger projects may need additional time for review and many require other agency permits:
The State Department of Labor and Industry
County Conservation District
Borough Planning Commission
Borough Zoning Hearing Board
The Department of Environmental Protection
Those with such projects are urged to get in touch with the Borough as early as possible in the planning stage. For further details 445-5595.
UNIFORM CONSTRUCTION CODE
Much has been aid recently concerning the Uniform Construction Code. The Uniform Construction Code is a set of regulations that everyone in the Commonwealth of Pennsylvania must follow when making repairs to a structure, or when building a structure. Permits are required to construct, enlarge, alter, or demolish a structure. They are needed when the occupancy of a building or structure changes or when water or sanitary sewer facilities are added. Permits are also required for driveway construction, and for fences.

If you are uncertain as to whether or not your project needs a permit or an inspection, please contact the Somerset Borough Inspections Office at 814-445-5595.