MEETINGS and EVENTS
Borough Office Closed

April 18th
Municipal Authority Meeting

April 21st @ 7 PM
Council Meeting

April 28th @ 7 PM
SPRING CLEAN-UP

MAY 12
Water Line Flushing

MAY 11 - 15
Council Meeting
May 19th @ 7 PM

Open Office Hour
Every Thursday
9:30 AM - 10:30 AM
---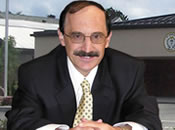 Inside Somerset
By: Benedict G. Vinzani Jr., Ph.D.
      Borough Manager
---
Act 32 - Local Earned
Income Tax Reform
Local Earned
Income Tax Information

Somerset County Act 32
PSD Codes
---
ACT 44 Disclosure
Statements

Click to View
ACT 13


Unconventional Gas Well Fund Report 2012
Water Notification System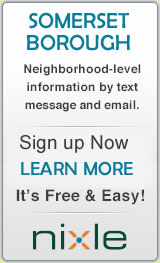 SOMERSET BOROUGH
Bid Specifications

Banners and Trash Recepticles
Bid will be accepted for the following until 2:00 PM, May 15, 2014.
Click to view bid specification form.

SOMERSET BOROUGH
SPRING CLEAN-UP
MAY 12, 2014
All items to be curb side by 6 A.M.

With the help and cooperation of Waste Management Hauling & Southern Alleghenies Landfill, clean up will be May 12, 2014. All items must be placed along the road right-of-way before 6:00 a.m. on Monday, May 12th. All objects, including carpets, must be cut into 4-foot lengths and tied or bundled.
The following items

WILL NOT

be picked up:
Refrigerators
Freezers
Air conditioners (unless the Freon was removed by a certified technician and tagged as such)
Other items containing Freon
Tires
Batteries
Car and truck parts
Shingles
Building materials from remodeling or demolition
Hazardous/infectious waste
Stones, rocks, dirt, concrete, yard waste
Normal household trash
Flammables
Paint or any liquid
No 55 gallon drums
No item two men cannot lift.
Paint cans accepted only if paint is completely hardened with the lids removed.
No Electronics
Special Notations:
Limit one large appliance and one large furniture item per household.
There is a 500 pound weight limit per household (excluding the furniture and appliance item).
There will be no return trips. Residents who do not follow the guidelines will be responsible for removal of items.

May 9th, May 11th thru May 15th, 2014
When will flushing be done in my neighborhood?
Our flushing schedule is as follows:
The Borough of Somerset will begin flushing waterlines May 9th from 12 p.m. until 2:30 p.m. at Clover Hill Road, McKinley Drive, Forest Road, and Hickory Hill Lane.

May 11 through May 15 from 9 p.m. until 6 a.m. All remaining areas in the Borough of Somerset. Customers are asked to shut off their gate valve at their water meter from 9 p.m. until 6 a.m.
Your water service may be interrupted. If you notice that your water appears discolored in any manner we recommended that you allow several hours for it to clear up. After time has elapsed, run the cold water faucet for a few minutes to see if your water is clear again.
2013 Annual Drinking Water
Quality Report
PWSID# 4560042
Posted February 20th, 2014
We are pleased to present to you this year's Annual Drinking Water Quality Report. This report is designed to inform you about the quality water and services we deliver to you every day. Our constant goal is to provide you with a safe and dependable supply of drinking water. We want you to understand the efforts we make to continually improve the water treatment process and protect our water resources. We are committed to ensuring the quality of your water. Click to view.
Snow Removal Policy
It is the Borough's intention to keep all of its roads plowed and salted this winter. It is our policy to plow and salt any hills and main roads, then side streets and Borough Parking lots.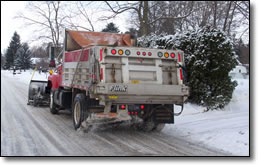 It would help our snow removal efforts if citizens would try to keep from parking along the roads during heavy snow. This way we will be able to keep roads clean more efficiently.
It is almost impossible for the equipment operators not to push some snow into driveways that are already plowed. If you must plow your driveway prior to completion of the street plowing, clear an area on the side of the driveway from which the truck will approach. This provides an area for snow to unload before it reaches the driveway.
Snow and Ice Removal from Sidewalks
Ordinance Number 1146 requires all owners or occupants of property as tenants, fronting on any of the streets in the Borough of Somerset to keep the sidewalks in front of, or along said properties clear free of snow and ice. This is to help insure that pedestrians pass safely over sidewalks.
Read more about the Borough of Somerset Snow Removal Policy.
Telemarketers have been falsely representing the Somerset Borough Police Department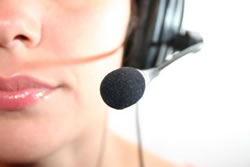 A company named Team Spirit Promotions has recently been engaging in a telemarketing campaign in the Somerset area to sell ad space on a refrigerator magnet they plan to distribute in Somerset. In addition to the ads, the magnet is to also contain emergency numbers.
Unfortunately, the telemarketers have been falsely representing that the Somerset Borough Police Department is "sponsoring" their efforts and that they are "working hand-in-hand" with the department. A common ploy is also to tell people that Chief Randy Cox has personally endorsed the effort.
None of the above is accurate or true. The Somerset Police Department does not engage in solicitation of funds to the general public and never engages in any type of phone solicitation. Further, neither the Somerset Borough Police Department nor any of its members, including the Chief of Police, have any type of relationship or agreement with Team Spirit Promotions.
Any community business may feel free to contact the department should they have any concerns.
Posted 3-8-13
Recycling Collections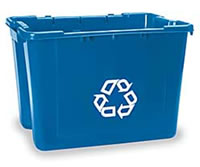 Waste Management will be picking up recyclables for every resident in Somerset Borough beginning Monday, March 26th, 2012.
Please place your plastics, clear and colored glass and aluminum in a container near the curb of your street. Collection days will resume every Monday thereafter.
There is no charge for this service.
Posted 3-23-12
Public Comment Policy
Adopted by the Council of the Borough of Somerset: January 24, 2011

Council The Pennsylvania Sunshine Act (65 Pa. C.S. 701, et seq.) provides that the Board or Council of a political subdivision shall provide a reasonable opportunity at each advertised regular meeting and advertised special meeting for residents of the political subdivision or for taxpayers of the political subdivision or to comment on matters of concern, official action or deliberation which are or may be before the Board or Council prior to taking official action. (710.1).
To assure compliance with the Act, to inform members of the public who may wish to make comment, and to provide for predictable and orderly implementation of the public comment period, Somerset Borough Council has adopted this Public Comment Policy. READ MORE >