Somerset Borough Council Minutes
Council Minutes will be posted after they are approved at the following meeting.
---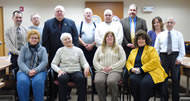 Meet the Somerset Borough Council Members and Staff
---
Public Comment Policy
The Pennsylvania Sunshine Act (65 Pa. C.S. 701, et seq.) provides that the Board or Council of a political subdivision shall provide a reasonable opportunity at each advertised regular meeting and advertised special meeting for residents of the political subdivision or for taxpayers of the political subdivision or to comment on matters of concern, official action or deliberation which are or may be before the Board or Council prior to taking official action. (710.1).
To assure compliance with the Act, to inform members of the public who may wish to make comment, and to provide for predictable and orderly implementation of the public comment period, Somerset Borough Council has adopted this Public Comment Policy.
---
2016 Council Meetings
7:00 pm at the
Municipal Building

January 25th
February 22nd
March 28th
April 25th
May 23rd
June
July
August
September
October
November
*Council has traditionally rescheduled its November and December meetings based on the timing for budget adoption and the Thanksgiving and Christmas holidays.   The rescheduling will be done closer to these dates.
Borough of Somerset Council Meeting
March 28, 2016 – 7:00 p.m.

            Meeting was called to order by Council President Ruby W. Miller, opening with recitation of the Pledge of Allegiance to the Flag.
Roll Call
Members of Borough Council present were Ruby Miller; Judy Pyle; Pamela Ream; Sue Opp; Steve Shaulis; and Gary Thomas. Scott Walker, Mayor, also present.
Also Present
Borough Manager, Michele A. Enos; Director of Finance Brett B. Peters; Solicitor James Cascio; Consulting Engineer Tom Reilly; Director of Public Works George Svirsko; and Assistant Manager Joshua Summits.
Approval of Minutes of Previous Meeting(s)
Mrs. Opp moved, Mr. Thomas seconded, to approve the Minutes of the February 22, 2016 meeting of Somerset Borough Council.
Unanimously Carried.
Opening of Bids
            (a) Chemical Bids

Pam Ream moved to award the Chemical Bids to the lowest responsive bidders, motion seconded by Sue Opp.
Powered Sodium Fluoride (50 lb bag)            Univar                                     $20.98
Liquid Chlorine (1 ton)                                    C.I. Thornburg                        $485.00
Liquid Chlorine (150 lb)                                  Sal Chemical                           $56.25
Liquid Corrision Inhibitor (per gallon)          Sal Chemical                           $5.94
Potassium Permanganate (per lb)             Shannon Chemical                  $2.27
           
Unanimously Carried.
            (b) De-watered Sludge Removal bids

Sue Opp moved to award the De-Watered Sludge Removal Bid to the lowest responsive bidder, Waste Management  in the amount of $645.00 per dumpster,  motion seconded by Steve Shaulis.
                                                                                                            Unanimously Carried.
General Public Comments
Sienna Davis – Residential Permit Parking, 300 block, West Garrett Street. This will be carried over for discussion at Council's April 25th meeting.
James Davis – addressed Council concerning the repainting of the concession stand and pavilion at the Union Street Playground as an Eagle Scout Project. Mr. Davis was advised that it is understood that he will be acting independently, and not on behalf of the Borough.
ADMINISTRATIVE BUSINESS
Payment of Bills
            Gary Thomas moved, Judy Pyle seconded payment of the following bills:
            Check Numbers:   27286    to   27458
Total Amount: $540,559.46
                                                                                                            Unanimously Carried.
POLICY AGENDA
NEW BUSINESS
(a) Appointment of a Voting Delegate to the PSAB Annual Conference
            Sue Opp moved to appoint Fred Rosemeyer as the Voting Delegate to the PSAB Annual Conference – motion seconded by Judy Pyle.
Unanimously Carried.
(b) Appointment of an Alternate Voting Delegate to the PSAB Annual Conference
            No action taken
(c) Chamber of Commerce – Request for free metered parking
            The Chamber of Commerce has requested free metered parking during their annual Antique Show, Saturday, August 13, 2016, from 8:00 a.m. to 4:00 p.m.

Pam Ream moved and Sue Opp seconded to approve their request.
                                                                                                            Unanimously Carried.
(d) Cottage Real Estate Right-of-Way
            Authorizing a Right-of-Way and Easement Agreement for Cottage Real Estate, LLC, for a proposed hotel project in Somerset Township. Gary Thomas motioned to authorize execution of this Right-of-Way and Easement Agreement once the paperwork is completed to the satisfaction of our Solicitor. Motion seconded by Pam Ream.
                                                                                                            Unanimously Carried.
(e) Resolution Number 2016-08
            Motion by Sue Opp to adopt Resolution # 2016-08 authorizing the Borough Manager to enter into an agreement with Penelec for the replacement of existing street lights in the Borough with LED lights. Motion seconded by Gary Thomas.

            WHEREAS, The Pennsylvania Department of Environmental Protection (PA DEP) Office of Pollution Prevention and Energy Assistance in conjunction with the Pennsylvania Electric Company (Penelec) have developed a LED Streetlight Replacement Program for their municipal customers...

WHEREAS,  The Borough of Somerset (Customer) desires Penelec (Company) to provide LED Street lighting service to the Company owned street lighting facilities.

             NOW, THEREFORE, BE IT RESOLVED, that the Borough Manager of the Borough of Somerset is directed to execute a Street Lighting Agreement with the
Pennsylvania Electric Company (Penelec) for replacement of streetlights within the Borough of Somerset.
                                                                                                            Unanimously Carried.
Committee, Administration, Special Reports
(A) Manager's Report
Mrs. Enos reported the following:
March 11th we had a structure fire in our Central Business District. We are working with the property owner during the site cleanup process. We want to thank our Fire Department; as well as the other Fire Departments and agencies that responded including Somerset Hospital. 
March 16th our Water Treatment Plant superintendent and I met with Tom and Jake from EADS to discuss the SCADA System prior to the project "going out to bid".
March 21st the chemical and dewatered sludge removal bids were administratively opened and these are the ones we awarded tonight.
The Somerset County Boroughs Association will hold its next meeting on Thursday May 19th at Our Coal Miner's Café in Jennerstown.  We will be sending out the information in this week's packets.
As a reminder the PSAB Annual Conference Registration deadline is May 5th for discount and housing deadline is the same or until filled.
Our Spring Clean-up is scheduled for April 25th.
(B) President's Report
President Miller mentioned that the Somerset County Boroughs Association Dinner Meeting is scheduled for May 19th.
(C) Engineer's Report
Mr. Reilly reported that he has submitted his Status of Projects, and can answer any questions concerning his report.
(D) Public Works and Equipment Committee
Mr. Svirsko reported the following:
Patched potholes throughout the Borough
Repaired sanitary sewer viewports damaged by plowing
Repaired wooden fence wooden post at the Union street Playground
Repaired water line breaks on East Main Street and on North Humberson
Repaired fire hydrant on Patriot Street and South Center Avenue
Used video camera to locate sewer tap and to check the line condition on Patriot Street in conjunction with a contractor repairing the sewer lateral leading from the Glades Court Building
Installed 1" water tap and fire service tap for old Agway Building after our newly constructed waterline was put in service
Hauled contaminated soil from new 12" waterline replacement project to a landfill
Super-chlorinated and flushed newly constructed 12" waterline replacement at Agway Building
(E) Public Safety Committee
Mrs. Ream mentioned that there was no meeting of the Committee.
(F) Finance Committee   
            Director of Finance Brett Peters gave the following report, which is the Year-to-Date Report for the months of January through February, which is the 2/12 or 16.66% point of the Fiscal Year:  
General Fund

Revenues: 7.25%
Expenditures: 15.64%

Water Fund

Revenues: 16.89%
Expenses: 20.50%
Sewer Fund

Revenues: 15.48%
Expenses: 12.24%
(G) Somerset Inc. Representative
Mrs. Pyle distributed information from Somerset Inc.
(H) Somerset Volunteer Fire Department
Mr. Thomas reported on the status of the Department's new ladder truck and the number of Fire Calls to which the Department responded.
(I) Solicitor's Report
Attorney James Cascio is representing the Law Firm of Fike Cascio & Boose.  
(J) Mayor's Report: 
Pam Ream moved to have the Borough's Official Negotiating Committee for the upcoming Teamsters Contract Negotiations remain as it presently is, consisting of the Borough Manager; Director of Finance; and Special Labor Counsel Doug Smith. Motion seconded by Sue Opp.
Unanimously Carried.
ADJOURNMENT
Sue Opp moved to adjourn, seconded by Judy Pyle.
                                                                                                Unanimously Carried.
Time: 7:39 pm
________________________
Michele Enos
Borough Manager/Secretary