Somerset Borough Council Minutes
Council Minutes will be posted after they are approved at the following meeting.
---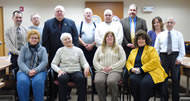 Meet the Somerset Borough Council Members and Staff
---
Public Comment Policy
The Pennsylvania Sunshine Act (65 Pa. C.S. 701, et seq.) provides that the Board or Council of a political subdivision shall provide a reasonable opportunity at each advertised regular meeting and advertised special meeting for residents of the political subdivision or for taxpayers of the political subdivision or to comment on matters of concern, official action or deliberation which are or may be before the Board or Council prior to taking official action. (710.1).
To assure compliance with the Act, to inform members of the public who may wish to make comment, and to provide for predictable and orderly implementation of the public comment period, Somerset Borough Council has adopted this Public Comment Policy.
---
2016 Council Meetings
7:00 pm at the
Municipal Building

January 25th
February 22nd
March 28th
April 25th
May 23rd
June 27th
July 25th
August 22nd
September 26th
October 24th
November 21st
December 19th
*Council has traditionally rescheduled its November and December meetings based on the timing for budget adoption and the Thanksgiving and Christmas holidays.   The rescheduling will be done closer to these dates.
Borough of Somerset Council Meeting
June 27, 2016 – 7:00 p.m.

            Meeting was called to order by Council President Ruby Miller, opening with recitation of the Pledge of Allegiance to the Flag.
Present:   
            Council Members Fred Rosemeyer, Pam Ream, Sue Opp, Steve Shaulis, Gary Thomas.   Mayor Scott Walker present.
May 23, 2016  Minutes
             Gary Thomas moved, seconded by Sue Opp, to approve Minutes of the May 23, 2016 Council Meeting.
Motion Unanimously Carried.
General Public Comments
            Mike Skyver addressed Council, stating that he wishes to thank the Borough for allowing him continue salvaging some of his property  - a difficult task, but he is trying to accomplish this as soon as possible.
            Ruby Miller asked for comments from Council.  A question posed was whether any heavy equipment would be required to move some of the items.  Mr. Skyver offered said he received a backhoe to pick up items saved from the fire.  A dump truck is available to remove debris, beginning with sidewalks. He is following the Structural Engineer's guidance - clearing public sidewalks is the chief concern at this time, especially for residents of the Towers using walkers and wheelchairs.  He is working as quickly as possible, and an arrangement will be made for further discussion.
Communications  -  (none received)
Payment of Bills
            Motion by Sue Opp, seconded by Fred Rosemeyer to pay the following bills:
            Check Numbers: 27732 to 27904            Total Amount:  $442,995.45
                                                                                                Motion Unanimously Carried.
NEW BUSINESS
(a)  Winter Maintenance Agreement with PennDot
            Ms. Enos reported that we will continue the Agreement for the Borough to perform winter maintenance on Franklin Avenue for the year 2016-2017 seasons. We do this annually in cooperation with PennDot.  (Typically, Franklin Avenue from Cannel Drive to Felgar Road.)
Motion
            Mr. Thomas offered a motion to accept and sign the Years 2016-2017 Winter Maintenance Agreement with PennDOT in the amount of $3,934.50 - seconded by Mrs. Opp.
Motion Unanimously Carried.
(b)  Parking Ordinance No. 1370
            Concerning Vehicle Parking at Borough-located meters, this Ordinance repeals Ordinance No. 1284 and amends Ordinance Nos. 1034  and 1232.  In answer to a customer's question, it was explained that the old Ordinance amendments stating that meters will be enforced except for Sundays, National Holidays, etc. is being amended, to allow the Mayor and Chief to impose restrictions if needed.
Motion
            Mrs. Ream moved to accept the following Ordinance; motion seconded by Mr. Thomas:
Ordinance No. 1370
            AN ORDINANCE OF THE BOROUGH OF SOMERSET REPEALING ORDINANCE NO. 1284 AND AMENDING ORDINANCE NO. 1034 REGULATING VEHICLE PARKING AT PARKING METERS LOCATED WITHIN THE BOROUGH OF SOMERSET, AND AMENDING ORDINANCE NO. 1232 REGULATING PARKING PERMITS.
WHEREAS,  by Ordinance No. 1034, the borough council of the Borough of Someret ("Borough Council") established the procedures for designating parking meter zones, installing and erecting parking meters therein, prescribing the rules and regulations relative to parking meters, and instituting penalties for violations of said rules and regulations, and;
            WHEREAS, by Ordinance No. 1284, Borough Council deleted and replaced Section 1 of Ordinance No. 1034 and declared it unlawful for the owner or operator of any motor or other vehicle to park  in a designated parking meter zone between the hours of 8:00 a.m. and 5:00 p.m. on any day, except any Sunday or National Holiday, and declared it unlawful for said owner or operator to park in a designated parking meter zone in excess of the time registered on the meter; and
            WHEREAS, Borough Council wishes to establish procedures to specify other or additional periods of time when the normal enforcement of the parking meters located within the Borough is suspended; and
            WHEREAS, by Ordinance No. 1232, Borough Council established designated residential parking permit areas and  required residents and visitors who desire to park in said areas to have a parking permit; and
            WHEREAS, Borough Council desires to amend Ordinance No. 1232 to include provision limiting the term of a visitor parking permit to the duration of the visit and to allow a caregiver to park in a designated residential parking permit zone;
NOW THEREFORE BE IT, AND THE SAME IS HEREBY ORDAINED AND ENACTED AS FOLLOWS:
            SECTION 1.  Repeal of Ordinance No. 1284.  Ordinance No. 1284 is hereby repealed in its entirety.
            SECTION 2.  Additional Periods of Meter Enforcement.  Section 1 of Ordinance No. 1034 of the Borough of Somerset, providing for the installation and erection of parking meters, etc., is hereby deleted entirely and is replaced by the new Section 1, which provides as follows:
            Section 1:  The multiple coin parking meters shall be installed and erected on such streets or parts of streets or off-street lots as may now or hereafter be designated as parking meter zones.  Except in the manner hereinafter provided, and in no case for a period in excess of the time registered on the meter by the deposition of coin(s) as hereinafter provided; and in no case on any day between the hours of 2:00 a.m. and 5:00 a.m., it shall be unlawful for the owner or operator of any motor or other vehicle to park a vehicle between the hours of 8:00 a.m. and 5:00 p.m. on any day except for:
            A. Any Sunday or national holiday.
            B. Any days designated by temporary order of the Mayor or the Chief of Police, effective only until the next regular meeting of Borough Council.
            C. Any days established by Resolution of Borough Council.
SECTION 3.  Duration of Visitor Permits.  Section 8 of Ordinance No. 1232 of the Borough of Somerset, providing the requirement that transient visitors of residents within a residential parking permit area desiring to park a vehicle in said area, is hereby deleted entirely and is replaced by the new Section 8, which provides as follows:
            Section 8.  The Parking Permit Office is authorized upon application to issue parking permits to residents of residential parking permit areas for use of bona fide transient visitors.  Such visitor permits shall have all rights and privileges of a regular permit and shall be valid only for the duration for the visit as determined by the parking Permit Office.
SECTION 4.  Caregivers.   The definition of a "Certified Resident" in Section 2 of Ordinance No. 1232  of the Borough of Somerset is hereby deleted entirely and is replaced by the following definition:
            CERTIFIED RESIDENT.  A property owner having title to real property, a renter who is party to a valid lease, or a medically necessary caregiver for any member of the household of such property owner or renter.
SECTION 5.Repeal and Effective Date.   All existing ordinances or parts of parts thereof that are inconsistent herewith are hereby repealed.  This Ordinance shall take effect immediately.
            ENACTED AND ORDAINED this 27th day of June, 2016 by the Borough Council of the Borough of Somerset.
                                                                                                Motion Unanimously Carried.
Somerset Volunteer Fire Department
Motion
            Pam Ream moved, Fred Rosemeyer seconded to donate the amount of $100 to the Somerset Volunteer Fire Department Golf Tournament Fundraiser.
                                                                                                Motion Unanimously Carried.
PSAB Convention Report
            Mr. Rosemeyer provided the following, from his attendance at the PSAB Convention, Hershey, Pa.
The conference was well-attended.  He brought back the following informational material:
Issues for the Right-to-know Responses, containing five tips for preparing responses.
An issue on "Deserve your Borough" showing what is available in the Borough for the community; what should be advertised.
"Property Management" – a Rental Property Inspection Ordinance by the PA State Association of Boroughs.
"Part-time Police Officer Hiring" versus "Full-time Officer Hiring" was reviewed, along with "Issues for Volunteer Fire Departments".
A Certified Borough Officials Program.
He said the material is available to be shared.  Next meeting will be in Gettysburg and he recommended attendance.
COMMITTEE, ADMINISTRATION, SPECIAL REPORTS
(A) Manager's Report

Ms. Enos provided the following updates:
The public works garage roof replacement is nearly completed.
We will meet with Columbia Gas prior to bidding our Street Paving Project.  The gas company indicated that they will be replacing their lines in their system; since some of our streets were slated for new gas lines, we need to wait until this is coordinated.
We are moving forward with the sewage treatment plant maintenance project, replacing trickling filters.
She attended the pre-bid conference for the Hickory Hill Storage Tank replacement project for PennVest.
The fire hydrant rental equipment will be returned.
Tree trimming: trees were marked and a meeting was set to determine the safest way for trimming.
The Somerfest Parade will be held July 15th.
Information on the 601 Bridge Project will be available.
(B) President's Report
            Mrs. Miller mentioned the need for painting street light poles – Mrs. Enos pointed out that our engineers said we will have the poles removed rather than painted, and present a better plan for Council.
Mr. Rosemeyer pointed out damaged signs at the hospital entrance area, and who is responsible.  It was pointed out that PennDot labels the back of all of their signs.  Mrs. Enos said we will check this out.
(C)  Engineer's Report
            Mr. Reilly reported that the tank bid opening is set for the month of July.
(D)   Public  Works & Equipment Committee
            Mr. Thomas reported on a meeting held this evening where they discussed the equipment, the new press, paving items, garbage container items needed, and are waiting until next month to do the bids.
Fire plugs need coating and their locations were pointed out.
Mr. Svirsko mentioned the major work completed this month at the Public Works garage.
Landscaping was completed, grass cutting citations filed, restrooms at the playground repaired from winter damage.
The Eagle Scouts completed the pavillion painting.
Sanitary lines were cleaned with our combination unit.
We completed painting 136 hydrants – approximately 36 are located close to fences/walls and need to be completed by hand.
Crosswalks are being painted and we are checking manholes and monitoring our sanitary lines.
We installed a new service line in Brierwood for a new house being built.
This is in addition to our daily, weekly and monthly regular work with the Borough.
A question was raised concerning a complaint regarding wire discovered in a yard.  He said this was also in conjunction with the Neilan storm line and we are waiting for the final cost.  Mrs. Enos said we also are waiting for DEP's permitting, submitted months ago, and will then move forward with the project.
Another question presented was for property at corner of Rosina and Church Streets needing maintenance. No answers were received from the citation letters.  Mr. Jury will be sent out regarding the sidewalk issue.
(E)  Public Safety Committee
            Mr. Rosemeyer presented the Committee's meeting review:
            Discussion ensued regarding hiring full-time police officers versus part-time.  There is the need to fill two part-time positions.  Chief Cox pointed out that a longer wait means more overtime; these are replacement vacancies. We have approxmately 15 applications, with six selected. He asks if Council wants to fill the two vacant positions or fill them, (and create overtime, plus leave replacement - very costly.

Motion

Mr. Thomas moved, seconded by Mrs. Opp, to authorize the Chief of Police to provide applications for two part-time police officers to fill the two open part-time positions.
Motion Unanimously Carried.
            The new patrol car funding is on hold.  Public Works is looking to see the actual cost (whether in or under the budget) to proceed.  Mrs. Opp asked whether funding might be available.
They discussed the condition of the car needing replacement, with concern about the mileage.  The Chief pointed out that with a police car, it's not the miles but the number of hours on the engine to be considered – also, ten or more different drivers will also affect the car.
He suggested revisiting this next month, to see where our finances stand.
He explained the difference in hiring of part-time versus full time officers, and said he would like to include a written test, beginning with this hiring round, similar to the same test that full-time applicants take.  Cost would be $15 each, to establish a base line of quality for the person we're looking to hire, then do the interview. 
He said his recent dealings with Somerset Hospital were impressive, and he asked them to provide us with an examination containing the same results that the physical fitness does for full-time officers.
They said they would give us the pre-employent physical exam, (to include medical history, current medicaiton use, hearing, urine dip stick, height/weight, blood pressure, body mass index, vision), a more in-depth exam than the current physical that we have all of our new hires do, mandated by the State.
In this package the price would be a more comprehensive physical, saving a bit of expense, at $64.00.  The other part would be the 4-hour functional capacity exam, at $300.00.  He said this can be done, looking at a net increase of approximately $200.00 per officer on average of once per year, which is within the budget.
He added that he believes this is a significant change, considering some of the issues we have been facing, and a positive/necessary one when searching for the best quality employees.
            This will be voted on at next meeting.
(F)  Finance Committee

Concerning a motion to permit the Chief to move forward with the physical and psychological concerns of the hiring exams, this will be addressed at next meeting.
(G)   (Judy Pyle absent)
(H)  Somerset Volunteer Fire Department
            Mr. Thomas provided the following:
They've had 384 fire calls – the new ladder tower was placed back in service.
They had several structure fires, helping with other fire departments.
Time was spent in Ligonier within the last month, assisting with flooding and a nursing home fire.
They addressed the trees issues.
Issues concerning a trailor court off East Main Street were looked at.
A fund raiser golf tournament will be held September 16th
They were called out to a barn fire, along with Ligonier and Listie, and drained three ponds. 
(I) Solicitor's Report
            (Referred to Executive Session.)
(J) Mayor's Report
            Mayor Walker reported the following:
The need for a new car was discussed. They are using motorcycles as effectively as possible, which saves mileage plus fuel costs.
Two officers were re-certified, Sgt. Borosky and Officer Levay, as Motor Officers; and Officers' Stanga and Pyle certified.
Council allowed Officer Hemminger to attend the Somerset County Leadership Program; she graduated this month.
Adjournment

Mrs. Opp moved to adjourn, seconded by Mrs. Ream.
                                                                                                Motion Unanimously Carried.
8:58 p.m.
________________________
Michele Enos
Borough Manager/Secretary