Somerset Borough Council Minutes
Council Minutes will be posted after they are approved at the following meeting.
---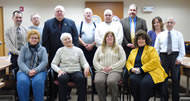 Meet the Somerset Borough Council Members and Staff
---
Public Comment Policy
The Pennsylvania Sunshine Act (65 Pa. C.S. 701, et seq.) provides that the Board or Council of a political subdivision shall provide a reasonable opportunity at each advertised regular meeting and advertised special meeting for residents of the political subdivision or for taxpayers of the political subdivision or to comment on matters of concern, official action or deliberation which are or may be before the Board or Council prior to taking official action. (710.1).
To assure compliance with the Act, to inform members of the public who may wish to make comment, and to provide for predictable and orderly implementation of the public comment period, Somerset Borough Council has adopted this Public Comment Policy.
---
2016 Council Meetings
7:00 pm at the
Municipal Building

January 25th
February 22nd
March 28th
April 25th
May 23rd
June 27th
July 25th
August 29th
September 26th
October 24th
November 21st
December 19th
*Council has traditionally rescheduled its November and December meetings based on the timing for budget adoption and the Thanksgiving and Christmas holidays.   The rescheduling will be done closer to these dates.
Borough of Somerset Council Meeting
July 25, 2016 – 7:00 p.m.

          Meeting was called to order by President Ruby W. Miller, opening with recitation of the Pledge of Allegiance to the Flag.
Roll Call:  
Present:  
            Council Members present: Fred Rosemeyer, Pam Ream, Sue Opp, Steve Shaulis, Judy Pyle and Gary Thomas.   Mayor Scott Walker was also present.
Not Present:    
None. (All members of Borough Council present)
Also in attendance:
Borough Manager Michele Enos; Director of Finance Brett Peters; Police Chief Randy Cox; Solicitor James Cascio; Consulting Engineer Jake Bolby; and Assistant Manager Joshua Summits. 
Approval of Previous Council Meeting Minutes
            Mr. Thomas moved, Mr. Rosemeyer seconded approval of the June 27, 2016 Council Meeting Minutes.
Unanimously Carried.
Administrative Business
Payment of Bills
Mrs. Opp moved, Mr. Shaulis seconded to approve the following payment:
            Check Numbers 27905 to 28035
Total Amount:  $338,701.33
Unanimously Carried.
New Business
(a) Resolution No. 2016-11
Motion      
          Mrs. Opp moved to authorize Resolution No. 2016-11 regarding disposal of certain records in accordance with the Commonwealth's Record Retention Guidelines – motion seconded by Mr. Rosemeyer.
Resolution No. 2016-11
            WHEREAS, the Borough of Somerset adopted Resolution No. 87-02 on April 27, 1987 providing for the destruction of certain papers in accordance with the Retention and Disposition Schedule for records of Pennsylvania Municipalities, and;
            WHEREAS, The Somerset Borough Administration wishes to dispose of some of its records in accordance with this Resolution;
            NOW THEREFORE, BE IT RESOLVED, that the following items be authorized for purging:

Water/Sewer Billing and Collections Department

2008 Water/Sewer Bills
            2008 Penalty Run and Account Detail Sheets
            2008 Daily Cash Receipts Journal
            2008 Adjustments
            2008 Log Books
2008 Payments Schedules
                                                                                    Motion Unanimously Carried
(b) Bishop McCort High School "Turn the Town Teal Campaign"
            Mrs. Opp moved, Mr. Rosemeyer seconded to approve the request of the Bishop McCort High School to place teal ribbons around trees in the Borough for their "Turn the Town Teal Campaign".
Unanimously Carried.
(c) Somerset County General Authority Water Purchase Agreement
            Our Water Purchase Agreement with the Somerset County General Authority will need to be amended to remain in effect as long as we are indebted for capital projects.
Motion
            Mrs. Ream moved, Mrs. Opp seconded, to extend the Water Purchase Agreement Contract with the Somerset County General Authority.                            
                                                                  
Unanimously Carried.
Committee, Administration, Special Reports
(A)  Manager's Report
Ms. Enos stated that the tree trimming update was presented to the Public Works Committee and will be reviewed, along with our Fire Department.
We have a pre-construction meeting scheduled for August 4th concerning replacement of the trickling filters at our Sewer Plant.
Bids were opened on the Hickory Hill Storage Tank Replacement Project on July 12th and on July 18th our Municipal Authority awarded this contract to Maust Excavating, in the amount of $1,540,085.00.
The Finance Committee met July 22nd to review our year-to-date financials – details will be presented.
Regarding our Annual Water System Flushing, which occurs in May, we had difficulty in our monitoring system with tank levels therefore flushing started on Sunday and will continue throughout this week.
           
(B) President's Report
            Mrs. Miller said the letter concerning the playground (approved by the Lions Club President and their Attorney) was settled but will be reviewed, as requested.
(C)  Engineer's Report
          Mr. Bowlby reported the Hickory Hill Tank settlement date is September 8, 2016, and they are working on the contract documentation.
The Bakersville pre-construction meeting is being scheduled.
(D)  Public Works/Equipment Committee
            Mr. Thomas reported the following:
A Public Works meeting was held this evening to review issues with the fire plug, along with other upcoming issues.
Tree trimming was addressed with the Fire Department.
Mrs. Opp reported the following:
Water repairs were completed on Davis Avenue, East Patriot Street, West Race Street, and Forrest Avenue.  Repairs on water valves on East Patriot Street, West Race Street and South Ankeny Avenue were completed; fire hydrants were repaired and painted. 
Inlets on the Edgewood section of the Borough and Edgewood Avenue, Patton and Sanner Streets were rebuilt.
Sanitary sewer lines on Edgewood, Garrett and Sanner Streets were cleaned, along with the camera sanitary line on Vannear Avenue.
Crosswalks on S. Franklin, Rosina and S. Columbia Avenue were completed, along with mulch spreading.
Signs were placed with Laurel Arts for the Somerfest.
Traffic signals were checked.
Meter pits requiring sampling were flushed.
Dirt buildup from Fairview Street was removed, along with daily/weekly/monthly trash pickup, plant watering, grass cutting, pothole patching, and grease trap inspections.
Mr. Thomas mentioned:
They reviewed paving contracts that may be let next month – we have a meeting with Columbia Gas regarding digging up certain streets, and will report back to Council.
(E)  Public Safety Committee

Mr. Rosemeyer said we will again provide police coverage for Laurel Arts but would like to reduce the cost of coverage during Somerfest (which will be cheaper this year since we did not have Sunday night coverage).
Motion
            Mr. Thomas moved, seconded by Mrs. Pyle, to keep the police coverage amount at the $500 level.
                                                        Motion Carried: 6 yes - 1 abstention (Mr. Rosemeyer)
Motion
            Mr. Rosemeyer moved to add Marissa Grossman and Trenent Hantz to the Roster our Police– motion seconded by Mrs. Opp.

Unanimously Carried.

(F)  Finance Committee

Mr. Rosemeyer presented the Financial Report for the period January 2016 through June 2016 which is the half point, or 50%, of the year.
General Fund:
Revenues: 62.48%
Expenditures: 45.77%

Water Revenue Fund:
Revenues: 55.16%
Expenditures: 53.59%

Sewer System Operating Fund:
Revenues: 46.05%
Expenditures: 39.37%
            He thanked Ms. Enos and Mr. Peters for their excellent financial management.
(G) Somerset Inc.
            Mrs. Pyle presented the following report:
She attended the PSAB Conference and mentioned the various items discussed: protecting historic buildings; Boroughs sharing success stories; college town problems; and property management and rental property inspection program.
A decision is forthcoming on the Main Street Manager hire.
(H)  Somerset Volunteer Fire Department
            Mr. Thomas presented the following report:
Our fire calls are now up to 306 for this year.
We have been assisting other fire departments - many also have personnel issues.
Tree issues were reviewed.
He described their fund raising Golf Tournament.
(I) Solicitor's Report     (To be given during Executive Session)
(J) Mayor's Report
Mayor Walker described Camp Cadet Program, which is a camp for young adults interested in a law enforcement career.  Officer Stanga from our Department was involved - the first time that an officer from outside the State Police served as a Counselor with this program.
August 9th is "National Night Out" - at 6:00 p.m.
Executive Session
Motion
            Mrs. Ream moved; Mrs. Pyle seconded to enter into Executive Session to discuss potential litigation matters.
Unanimously Carried.
7:45 p.m.
Council Meeting back in session at 8:35 pm
Adjournment
Motion
            Mrs. Opp moved to adjourn, motion seconded by Mr. Thomas.
Unanimously Carried.
8:36 p.m.
________________________
Michele A. Enos, Borough Secretary