Somerset Borough Council Minutes
Council Minutes will be posted after they are approved at the following meeting.
---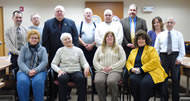 Meet the Somerset Borough Council Members and Staff
---
Public Comment Policy
The Pennsylvania Sunshine Act (65 Pa. C.S. 701, et seq.) provides that the Board or Council of a political subdivision shall provide a reasonable opportunity at each advertised regular meeting and advertised special meeting for residents of the political subdivision or for taxpayers of the political subdivision or to comment on matters of concern, official action or deliberation which are or may be before the Board or Council prior to taking official action. (710.1).
To assure compliance with the Act, to inform members of the public who may wish to make comment, and to provide for predictable and orderly implementation of the public comment period, Somerset Borough Council has adopted this Public Comment Policy.
---
2015 Council Meetings
7:00 pm at the
Municipal Building

January 26th
February 23rd
March 23rd
April 27th
May 18th
June 22nd
*Council has traditionally rescheduled its November and December meetings based on the timing for budget adoption and the Thanksgiving and Christmas holidays.   The rescheduling will be done closer to these dates.
Council Meeting April 27, 2015 – 7:00 p.m.
Meeting was called to order by Ruby Miller, President of Council, opening with recitation of the Pledge of Allegiance to the Flag.
Present:
Present were Borough Council Members: Ruby Miller, Judy Pyle, Pam Ream, Steve Shaulis, and Gary Thomas.   Mayor Scott Walker was also present.
Also present were the following: Michele A. Enos, Interim Borough Manager; Brett B. Peters, Director of Finance; Chief of Police Randolph Cox; Tom Reilly, consulting Engineer; John J. Dirienzo, Borough Solicitor; and George Svirsko, Director of Public Works.
Swearing-in Ceremony
Brett Stanga was sworn in as part-time Police Officer by Mayor Walker.
Approval of Minutes of Previous Council Meeting
Motion
Minutes of the previous Council Meeting Minutes were approved, on motion of Mr. Shaulis and seconded by Mrs. Ream
Unanimously Carried.
ADMINISTRATIVE   BUSINESS
Payment of Bills
Motion
Mrs. Ream moved to pay the following bills; motion seconded by Mr. Thomas.
            Check Numbers   25565 to 25761                       Total Amount   $532,716.98
                                                                                                Unanimously Carried.
POLICY AGENDA
Old Business
(a)  Hickory Hill Tank Replacement Project
A discussion was held concerning a petition sent to Council from residents of Hickory Hill, concerning the Water Tank Replacement Project.  No action taken.
New Business
(a) Resolution No. 2015-3
Motion
Following discussion concerning Somerset Borough's Emergency Operations Plan, Mr. Thomas moved, Mrs. Pyle seconded to approve the Borough's Emergency Operations Plan.
Unanimously Carried.
(b) Gilmour Assessment Appeal
Discussion ensued regarding the Court of Common Pleas stipulation of the Gilmour Assessment Appeal. This results in the payment to property owner of $13,811.84 from the Borough as the result of the Court decision. This is for the overpayment of Real Estate taxes.
Mr. Thomas moved; Mrs. Ream seconded to approve the Court of Common Pleas Stipulation.
Unanimously Carried.
(c) Mary S. Biesecker Public Library Reappointment
Mr. Shaulis moved to reappoint Mr. G. Henry Cook to a three-year term on the Mary S. Biesecker Public Library – motion seconded by Mr. Thomas.

Unanimously Carried.
(d) Mary S. Biesecker Public Library Reappointment
Mrs. Ream moved to reappoint Mr. Matt Deal to a three-year term on the Mary S. Biesecker Public Library – motion seconded by Mr. Shaulis.
                                                                                                Unanimously Carried.
(e) Mary S. Biesecker Public Library Appointment
Mrs. Ream moved to appoint Mr. Benedict G. Vinzani, Jr. to a three-year term to replace Mr. Ralph Egolf, whose term on the Mary S. Biesecker Public Library, is expiring in May, 2015.  Motion seconded by Mr. Shaulis.
                                                                                                Unanimously Carried.
Committee, Administration, Special Reports
Manager's Report
Mrs. Enos reported that she attended a community luncheon sponsored by Congressman Shuster on April 1st. 
Our Finance Committee met on April 10th.
She gave a presentation on Saturday April 11th to the Citizen's Police Academy.
On April 13th she and Tom Reilly met with DEP to discuss renewing the Permit for our Water Treatment Plant.  
Our Municipal Authority met on April 20th.
On April 22nd George and I met with our Public Works Committee to discuss prioritizing our streets for this year paving project.
Yesterday I attended the memorial service for Arny, our K9.
She also reminded everyone that the State Ethics Commission Forms were in your packets and for anyone who has not yet done so, they need to be filled out and returned to the office by May 1st.
President's Report
Mrs. Miller reported that copies of the new Borough Code are available at the Commonwealth's Book Store. Additionally the Somerset County Boroughs Association will be meeting in Somerset on May 21, 2015.
Engineer's Report
Mr. Reilly mentioned that the Engineer's Report was sent out and if anyone has any questions, please let him know.
Public Works Committee
Report was given by Mr. Svirsko. Mr. Thomas added that the Committee was looking into the possibility of leasing new medium size truck and a vehicle to replace the one used by the Public Works Director.
Public Safety Committee
It was mentioned that no meeting was held this month.  
Finance Committee
Mrs. Ream gave the following Year-to-Date Financial Report (January through March - 25%):
General Fund:
Revenues: 8.44%
Expenditures: 25.23%
Water Fund:
Revenues: 29.34%
Expenditures: 27.40%
Sewer Fund
Revenues: 24.18%
Expenditures: 30.48% with Lagoon Liner Project
Somerset Inc. Representative 
Mrs. Pyle updated Council on various Somerset Inc. activities and mentioned that a new "Drive Through" Mexican Restaurant is now located at 238 East Church Street.
Somerset Volunteer Fire Company Representative 
Mr. Thomas gave an update on the Ladder Truck that was mentioned at previous meetings. Additionally, he mentioned that the trip to New York that was mentioned at last month's meeting has been cancelled.
Solicitor's Report
Solicitor Dirienzo mentioned to Council that there is pending litigation involving a sub-contractor dispute in connection with the Lagoon Liner replacement project contract. Additionally, our police department along with other county agencies has been named in a law suit. We will be defending these claims as necessary.
Mayor's Report
Mayor Walker reported that a local business, who had remained anonymous until now, was actually the EADS Groups.  They have committed to make a donation of up to $10,000 for a K-9 dog and training.  Arny's memorial service was Sunday. With Council's blessing we are moving forward with the search for a new K- 9.
Adjournment
Mrs. Pyle moved to adjourn – motion seconded by Mrs. Ream.
                                                                                                Unanimously Carried.
8:17 pm
   Respectfully submitted,
__________________________
Michele A. Enos Interim
Borough Manager / Secretary