Somerset Borough Council Minutes
Council Minutes will be posted after they are approved at the following meeting.
---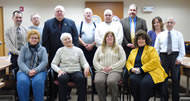 Meet the Somerset Borough Council Members and Staff
---
Public Comment Policy
The Pennsylvania Sunshine Act (65 Pa. C.S. 701, et seq.) provides that the Board or Council of a political subdivision shall provide a reasonable opportunity at each advertised regular meeting and advertised special meeting for residents of the political subdivision or for taxpayers of the political subdivision or to comment on matters of concern, official action or deliberation which are or may be before the Board or Council prior to taking official action. (710.1).
To assure compliance with the Act, to inform members of the public who may wish to make comment, and to provide for predictable and orderly implementation of the public comment period, Somerset Borough Council has adopted this Public Comment Policy.
---
2013 Council Meetings
7:00 pm at the
Municipal Building

January 28th
February 25th
March 25th
April 22nd
May 20th
June 24th
July 22nd
August 26th
September 23rd
October 28th
November 25th
December 16th
*Council has traditionally rescheduled its November and December meetings based on the timing for budget adoption and the Thanksgiving and Christmas holidays.   The rescheduling will be done closer to these dates.
SOMERSET BOROUGH COUNCIL MEETING
November 25, 2013 – 7:00 p.m.
Meeting opened with recitation of the Pledge to the Flag.
Present
Council Members: Pam Ream, Ruby Miller, Judy Pyle, Fred Rosemeyer, Wanda Miller, Scott Walker; and Mayor William Meyer.
Brett Peters, Director of Finance;  Michele Enos, Assistant to the Borough Manager; Benedict G. Vinzani, Jr, Ph.D., Somerset Borough Manager; Randy Cox, Chief of Police, Tom Reilly, Consulting Engineer and John J. Dirienzo, Jr., Borough Solicitor.  (A Sign-in sheet is on file.)
Announcement
An Executive Session was held at 5:00 p.m. on November 18, 2013 for purpose of Labor Negotiations.
Police Swearing-in Ceremony
Mr. Cox reported that Officer Christina Hemminger will be sworn in at our December, 2013 Borough Council meeting.
Jim Clark, Somerset Fire Chief.
Mr. Clark described an early morning structure fire on East Catherine Street, reported by Somerset County Jail Corrections Officer Raymond Dicks.  Officer Dicks was presented with the following Award: 

"The Somerset Volunteer Fire Department hereby commends Officer Raymond Dicks for his actions on September 1, 2013.
             While on duty as a Somerset County Jail Corrections Officer, Mr. Dicks observed a structure fire.  He immediately summoned first responders and was instrumental in the successful efforts to quell the fire and rescue the sleeping residents of the building."
Mr. Clark said police officers were also dispatched and assisted in evacuating residents from the building.  Officers' Kevin Huzsek and Phil Staib were honored for their efforts to control the fire and rescue sleeping residents.  He pointed out that Police Officers are a big help to the Fire Company and their efforts are much appreciated.  The Mayor expressed his appreciation to both officers.
                        Mr. Vinzani reported that Pam Ream will be officially sworn in as Council Member, replacing Paul Urbain.   The Mayor administered the Oath:
            "I, Pam Ream, do solemnly swear that I will support the Constitution of the U.S. and  the Commonwealth of PA, and will perform the duties as a member of Council of the Borough of Somerset with fidelity, so help me God."
Approval of Minutes of Previous Meeting
Mr. Rosemeyer moved to approve  minutes of the previous Council Meeting of October 28, 2013 – motion seconded by Mrs. Pyle.
                                                                                                Unanimously Carried.
General Public Comments
Jerry Lyons, Somerset Fire Department, stated that they are expecting delivery of a new utility truck by February.  The chassis is though Tri-Star and the body is being built by Morocco Welding, put together locally. 
He mentioned problems where they have not been able to use their cell phones in the Public Safety Building.  Signals are blocked out, and we are working with Roy Fritz to improve cell phone signal strength in this building and helping the Police Department. 
Bill Payment
Ms. Wanda Miller moved to pay the following bills – motion seconded by Mr. Walker:
            Check Numbers:     22837 - 23031                      Total Amount:  $507,118.65
                                                                                                Unanimously Carried.
Old Business
Somerset Inc. Donation
Mr. Rosemeyer moved to donate $700.00 to Somerset Inc., as approved by the Finance Committee – motion seconded by Mr. Walker.
                                                                                                Unanimously Carried.
New Business
Somerset Area Ambulance Association
Regarding the Ambulance Association's donation request, Mr. Rosemeyer said the Finance Committee recommends 50 cents per member of the community, in separate payments.  Mr. Vinzani confirmed that this will be for the year 2014 budget, at $800 for each quarter, out of the General Fund's Community Affairs line item.
            Mr. Rosemeyer moved, Mrs. Ream seconded to support the Ambulance Association as recommended.
Unanimously Carried.
Ordinance – Amending our Industrial Pretreatment Program
Mr. Vinzani stated that this ordinance is required by the EPA.  Mr. Reilly said the Borough must re-evaluate their local limits for the Industrial Pretreatment Program in conjunction with their Discharge Permit Renewal at the Wastewater Treatment Plant.
Adoption of this ordinance is part of the approval process for the local limits re-evaluation.  The revised local limits are not expected to affect customers of the system.  Mr. Vinzani said the ordinance preparation was authorized by Council, and the Solicitor has prepared and advertised the ordinance.
            Mr. Walker moved, Mr. Rosemeyer seconded to adopt the amending Industrial Pre-treatment Program Ordinance.
Unanimously Carried.
Ordinance – Holiday Inn Road Spur
Solicitor Dirienzo stated that in preparing this ordinance, the deed shows that the Borough acquired more property than was used for the road, 28 years ago.   We need to vacate the road portion that we used, cancel the laying out of the remainder, and authorize the re-conveyance back to the property owner; three items in one ordinance.
This road goes from the Turnpike Access Road to Shaffer Street.  This was opened part-way to the Holiday Inn, but the remainder was never needed nor opened as a street. The deed also has a clause stating that any land not needed shall revert to the owners of the premises.We need to address this in an upcoming meeting with a proper ordinance.
Tentative Budgets for Year 2014
Mr. Rosemeyer said the tentative budgets for year 2014 were distributed.  No tax increases or rate increases are proposed. He credited Mr. Vinzani, Mr. Peters and the Administrative Staff for the excellent job of handling the monies. 
The Finance Committee recommended a 3% wage increases for members of our administrative staff for the year 2014. The 2014 proposed budget has been prepared including a 3% raise.
            Mr. Rosemeyer moved to accept the tentative budgets for Year 2014 as presented by the Director of Finance and Borough Manager – motion seconded by Mrs. Ream.
Unanimously Carried.
            Mr. Rosemeyer moved to recommend the 3% wage increase for the Management Staff, motion seconded by Mrs. Ream.
            Vote: Mrs. Pyle, no; Mr. Rosemeyer, yes; Mrs. R. Miller, no; Mr. Walker, no; Ms. W. Miller, no; Mrs. Ream, yes.
Motion fails:   4 no – 2 yes
            Mr. Rosemeyer then moved to recommend the amount of 2.5% for the Management Staff – motion seconded by Mrs. Pyle.
Unanimously Carried.
Resolution 2013-04 – Certified Public Accountant
Mrs. Pyle moved to appoint Friedline, Pipon & Co. to audit the Borough's Year 2013 Accounts – seconded by Ms. Wanda Miller.
Unanimously Carried.
Uptown Holiday Shopping
Mr. Walker moved to have free metered parking during the Holiday Season (the day after Thanksgiving through New Years).  Motion seconded by Mr. Rosemeyer.
Unanimously Carried.
Resignation – Civil Service Commission
Mr. Vinzani reported that William Simmons, a long-time member of the Civil Service Commission, has submitted his resignation from the Commission.  They organize every two years. 
Mr. Rosemeyer moved to accept Mr. Simmons' resignation, to be followed with a letter-of-appreciation for his years of service – motion seconded by Mr. Walker.
Unanimously Carried.
Manager's Report
Mr. Vinzani reported the following:
He attended a webinar along with Mr. Svirsko on Sign Management and Storm Water Management, sponsored by PSAB, and an Economic Development Forum seminar sponsored by Somerset Trust. Dr. Edmond Seifried, a professor of Economics at Lafayette College, discussed the Federal Reserve's attempt to improve the U.S. economic growth and reduce the unemployment rate.
He attended the annual training for municipal "Open Records Officers", sponsored by PSAB, to provide new or updated provisions of the Right-to-Know law.
Our Finance Committee met November 8th.  He expressed his appreciation for their work on the Budget.
Christmas decorations were installed December 3rd, with Light-up Night beginning this past weekend.
President's Report
Mrs. Ruby Miller said a local person near Ankeny Avenue donated the Christmas tree for the Borough and will be provided with a photograph.
The Borough Christmas party is scheduled for 12/19/13 at noon, at the Community Room of the Public Safety Building.
Engineer's Report
Mr. Reilly stated that they are approaching completion of the Water Tank Project.  They will be testing the piping this week, disinfect, have the inspection from the PA DEP and begin to fill it.  They anticipate service by approximately the middle of December.
Public Works/Equipment Committee
Mr. Walker presented the following:
The Public Works Department completed street patching for this year.  They repaired East Union from Kimberly to Pleasant; Ankeny, from Main to Union, and the 300 block of West Union Street.    
They relocated a fire hydrant on West Main Street.
They completed the second week of leaf collection, with 22,500 pounds of leaves collected.  Mr. Svirsko reported that over 12 tons of leaves were collected the first three weeks.  They worked with the Department of Corrections, keeping cost to a minimum.
Trucks are being prepared for the snow season.
Public Safety Committee
Mr. Rosemeyer asked about the motorcycles ordered from Harvey Davidson.  Mr. Cox said we will be getting two, one is here and the second one will be traded in next month.  He said they are looking at replacing the detective's car and replacing the K-9 car, both through Surplus Equipment; otherwise we will go locally, but not a new vehicle purchase.
Finance Committee
Mr. Rosemeyer asked about purchase of a server.  Mr. Peters said we have an opportunity to buy a used one but would need to purchase it this year.
            Mr. Rosemeyer moved to recommend that we follow up on the lead to get the server, which will benefit communications throughout the Borough - motion seconded by Mrs. Pyle.
Unanimously Carried.
            Mr. Rosemeyer said he would like to have the Borough Manager prepare a letter of commendation and thanks to the Prison Board on behalf of Officer Dicks who was presented with an award this evening; and to our officers Huzsek and Staib, with a copy to Warden Briggs and our Police Chief, for their actions on September 1st. 
Somerset Inc. Representative
Mrs. Pyle reviewed the following:
She attended the Somerset Inc. and Somerset Economic Development meetings.  The former Director of Somerset Inc. spoke about possibilities pertaining to his experience in various other communities.
The Somerset Office Supply building is under an agreement, with plans for a business.
This Saturday is considered "Small Business Saturday" and we encourage community residents to participate.
Adjournment
Ms. Wanda Miller moved to adjourn, motion seconded by Mrs. Pyle.
                                                                                    Unanimously Carried.
7:55 p.m.
______________________________
Benedict G. Vinzani, Jr.
Somerset Borough Manager/Secretary