Somerset Borough Council Minutes
Council Minutes will be posted after they are approved at the following meeting.
---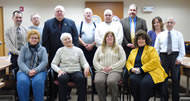 Meet the Somerset Borough Council Members and Staff
---
Public Comment Policy
The Pennsylvania Sunshine Act (65 Pa. C.S. 701, et seq.) provides that the Board or Council of a political subdivision shall provide a reasonable opportunity at each advertised regular meeting and advertised special meeting for residents of the political subdivision or for taxpayers of the political subdivision or to comment on matters of concern, official action or deliberation which are or may be before the Board or Council prior to taking official action. (710.1).
To assure compliance with the Act, to inform members of the public who may wish to make comment, and to provide for predictable and orderly implementation of the public comment period, Somerset Borough Council has adopted this Public Comment Policy.
---
2016 Council Meetings
7:00 pm at the
Municipal Building

January 25th
February 22nd
March 28th
April 25th
May 23rd
June 27th
July 25th
August 29th
September 26th
October 24th
November 21st
December 19th
*Council has traditionally rescheduled its November and December meetings based on the timing for budget adoption and the Thanksgiving and Christmas holidays.   The rescheduling will be done closer to these dates.
Borough of Somerset Council Meeting
November 21, 2016 – 7:00 p.m.

         Meeting was called to order by President Ruby Miller, opening with recitation of the Pledge of Allegiance to the Flag.
Roll Call
        Council Members:  Ruby Miller; Fred Rosemeyer; Judy Pyle; Pam Ream; Sue Opp; Steve Shaulis; Gary Thomas and Scott Walker, Mayor.

Also present were the following:  Michele Enos; Brett Peters; George Svirsko; Tom Reilly; Jake Bolby; Randy Cox and Jim Cascio.
Announcements
An executive session was held at 5:30 p.m. on October 25th, 2016 for the purpose of Collective Bargaining and personnel matters.
An executive session was held at 6:00 p.m. tonight to discuss personnel, litigation and legal process of the budget adoption.
Swearing In
        Chief Cox and Mayor Walker introduced the following Part-time officers and their families.  At this time the following officers were sworn in:
Karissa Grossman – Part-time Officer.
Trenent Hantz – Part-time Officer.
Anthony Vittone - Part-time Officer.
Approval of Previous Council Meeting Minutes
Mr. Shaulis moved, Mrs. Pyle seconded approval of the October 24th, 2016 Council Meeting Minutes.
                                                                                                Motion Unanimously Carried
Administrative Business
 Communications – There were no communications.
  Payment of bills
           Mrs. Opp moved, Mr. Thomas seconded to approve the following payment:
            Check Numbers: 28479-28620
Total Amount:  $297,499.22
                                                                                                Motion Unanimously Carried
Policy Agenda
Old Business
There was no old business.
New Business
(a) Resolution No. 2016-18
RESOLUTION No. 2016-18
WHEREAS, The Borough of Somerset has by ordinance established the use of Certified Public Accountants to audit Borough Accounts, and;

NOW THEREFORE, We, the Council and Mayor of the Borough of Somerset designate Friedline, Pipon & Company to audit Borough Accounts for the year 2016.
Motion
           Mr. Rosemeyer moved to authorize Resolution No. 2016-18 designating the Firm of Friedline, Pipon & Co., a Certified Public Accountant, to audit the 2016 Borough accounts. Motion seconded by Mrs. Opp.
                                                                                      Motion Unanimously Carried
                                                                       
(b) Tax Claim Bureau
Discussions were held to either accept or reject a private bid submitted to the County to purchase the property at 1115 Grandview Avenue.  If accepted, the amount of Borough delinquent taxes plus interest forgiven will be $4,530.12. This represents tax years 2010 thru 2016.                                                                                    

Motion          
Mr. Thomas moved to accept the bid submitted for the purchase of the property located at 1115 Grandview Avenue. Seconded by Mr. Rosemeyer.
                                                                                      Motion Unanimously Carried
 (c) Somerset Area Ambulance
Somerset Area Ambulance is requesting a donation for 2017. The Finance Committee reviewed this request and is recommending $1,000 per/quarter for year 2017.
Motion
Mr. Rosemeyer moved, Mrs. Opp seconded, to donate $1,000 per/quarter to Somerset Area Ambulance in 2017.
                                                                                      Motion Unanimously Carried
(d) 2017 Tentative Budgets
    Discussion was held concerning the tentative budgets for 2017. 
Motion
Mrs. Ream moved and Mr. Rosemeyer seconded, to approve and advertise the adoption of the tentative budgets for year 2017.  
                                                                                      Motion Unanimously Carried
Committee, Administration, Special Reports
  Manager's Report

Ms. Enos presented the following report:
Nov 3rd Army Corp of Engineers conducted its Annual Inspection of our CoxesCreek Flood Control Project. We received an "acceptable" rating and we will be addressing several maintenance items they have brought to our attention.
Nov 6th we put up Christmas Decorations. We want to thank our Fire  Department; REC; Penelec; Uptown Merchants; Somerset Inc. and others for   volunteering their time. The tree was donated by Somerset Estates.
November 15th Ms. Enos attended a meeting of the Kiwanis Club. They are  considering returning the annual Halloween Parade in Uptown Somerset.
November 14th and 16th our Capital Equipment Committee met to discuss Capital Equipments / Improvements to be incorporated in our 2017 Budgets.
November 16th Ms. Enos attended the Somerset Inc. Visioning Meeting.
November 17th Ms. Enos attended the County Boroughs Association Meeting.
November 18th our Finance Committee met to discuss our proposed 2017 Budgets.
November 26th - Light Up Night (various events occurring from 2:00 pm through 6:00 pm, with a parade scheduled for 6:00 pm).
 President's Report
            Mrs. Miller thanked the staff for a job well done on the leaves and the Light Up night. She mentioned that the County Borough was held on November 17, 2016 at Oakhurst Tea Room and mentioned the names of the new officers.
Mr. Rosemeyer, who was in attendance at the meeting, mentioned that 45 members of the County Borough's Associations were in attendance along with representation of 13 Boroughs. Also in attendance was the State Senator, a representative from County Commissioners, and a guest speaker from Harrisburg. All issues affecting the commonwealth, and all the boroughs, were discussed at the meeting. 
gineer's Report
          Mr. Reilly mentioned that the Hickory Hill Water Tank project is proceeding. Construction is to start in the spring of 2017.  The SCADA project at the Water Treatment Plant is going well.  The equipment is ordered for the Sewage Treatment Plant Project. It will be completed in the spring of 2017.
Public Works/Equipment Committee
          Mr. Thomas mentioned that a Public Works meeting was not held.         
Mrs. Opp mentioned that a fire hydrant was replaced on Tayman Avenue.
Fire hydrant raised on 281 South.
Replaced a waterline service on Main Street.
Repaired a waterline on Vaneer Avenue and Market Drive.
Repaired the storm sewerline on West Union Street.
Replaced the sidewalk slabs due to a water break on South Ankeny Avenue and South Rosina Avenue.
A "Watch Children" sign was removed on Luther Street.
Christmas decorations were put up.
Uptown Electric was worked on.
Helped with hauling and setting up the Christmas tree.           
Made sanitary man hole on Sanner and Rosina.
Leaf collection was approximately 52 tons. 
Daily/weekly/monthly routine work done, trash pickup, street sweeping, hauling of grass and brush. PA One Call locates, gas detector calibration, water samples and pothole patching.
George added that the streets were also salted and plowed with the change in the weather.

 Public Safety Committee

Mr. Rosemeyer mentioned that the Public Safety Committee met and discussed concerns about security. Light Up Night was also discussed at the Committee meeting regarding concerns with the traffic flow.  Plans were put together for that.  Also discussed at the Committee meeting was that free parking around the Diamond and surrounding areas, from Thanksgiving until Janurary 1st, be printed in the newspaper. 

Finance Committee
           Mr. Rosemeyer mentioned that the tentative budgets for 2017 will be discussed at a scheduled special meeting.
Mr. Rosemeyer presented the following report for the October finance review:
          General Fund:  Revenues - 90.41%     Expenses - 80.86%
Water Revenue Fund:  Revenues - 88.77%     Expenses - 85.00%
Sewer System Operating Fund:  Revenues - 79.71%     Expenses - 66.3%

It was again stated that Council agreed to, again, donate $1,000 per/quarter to Somerset Area Ambulance Service for the year 2017.
Somerset Inc.
            Mrs. Pyle stated there was a membership meeting held on November 16th. Future projects were discussed, as well as additions to current events.
Also mentioned was that 4 board members from Somerset Inc. drove to Bedford, in the summer to see what was making them successful in their Uptown area. New ideas were discussed for future events.
Mrs. Pyle made mention of the Main Street Program.  She stated that it once was funded by the state, and the state also paid the Programs Manager.  She mentioned that memberships and events, along with generous donations from area businesses, make all these things happen now.                        
Somerset Inc Board of Directors meeting was held. The Beautification Committee discussed how to make Uptown look nicer by using local artists to paint pictures in the boarded up windows, with cooperation of owners of the buildings.
On the Merchants Committee, upcoming events were discussed.
Trinity Park is moving along.
Thanks goes out to the Borough for all they did to help, and many volunteers for fall cleanup in the park.
Mrs. Pyle stated that she discussed park security with Mr. Rosemeyer.
Mrs. Pyle discussed putting up a sign in the Park enforcing time you had to leave the Park and also enforcing no smoking.  Chief Cox and Ms. Enos was consulted about this matter.
Fire and Ice event was discussed.
Mr. Rosemeyer discussed what a unique thing that occurred this month. It was how North Star, Somerset and Berlin High Schools, all coming from Somerset County, how 2 of them went to States with their sporting events.  He feels they should be recognized by letters being sent to Coach Barron by the President of Council and Manger for an unbelievable first year of coaching and going to States.  And as a Borough, all should send individuals letters to all 3 schools.  He feels the kids should be recognized for what they did and for all their hard work. 

Motion

Mr. Rosemeyer moved; Mrs. Ream seconded authorizing the Borough Manager and President of Council to sign and send a Congratulatory letter to all Somerset County Sports teams for their playoff season.
Motion Unanimously Carried.
Somerset Volunteer Fire Department
            Mr. Thomas presented the following report:
44 fire calls since October 1st
We have been assisting other Fire Departments – this week alone, had 4 structure fires not in our district.
The Fire Department will be helping with the Christmas parade.
He mentioned that calendars are still for sale.
Solicitor's Report    
           The Solicitor deferred his report to Executive Session.
Mayor's Report
            Mayor Walker mentioned that no stone was left unturned.
Adjournment

Motion
            Mrs. Ream moved to adjourn, motion seconded by Mr. Shaulis.                                                                                                                                                        
Motion Unanimously Carried.
7:44 p.m.                                                                                                                                                        
________________________________
Michele A. Enos, Borough Manager