Somerset Borough Council Minutes
Council Minutes will be posted after they are approved at the following meeting.
---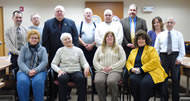 Meet the Somerset Borough Council Members and Staff
---
Public Comment Policy
The Pennsylvania Sunshine Act (65 Pa. C.S. 701, et seq.) provides that the Board or Council of a political subdivision shall provide a reasonable opportunity at each advertised regular meeting and advertised special meeting for residents of the political subdivision or for taxpayers of the political subdivision or to comment on matters of concern, official action or deliberation which are or may be before the Board or Council prior to taking official action. (710.1).
To assure compliance with the Act, to inform members of the public who may wish to make comment, and to provide for predictable and orderly implementation of the public comment period, Somerset Borough Council has adopted this Public Comment Policy.
---
2016 Council Meetings
7:00 pm at the
Municipal Building

January 25th
February 22nd
March 28th
April
May
June
July
August
September
October
November
*Council has traditionally rescheduled its November and December meetings based on the timing for budget adoption and the Thanksgiving and Christmas holidays.   The rescheduling will be done closer to these dates.
Council Meeting December 28, 2015 – 7:00 p.m.

            Meeting was called to order by Council President, Ruby Miller, opening with recitation of the Pledge of Allegiance to the Flag.
Present:
Council members: Ruby Miller, Fred Rosemeyer, Sue Opp, Steve Shaulis, and Gary Thomas; with Mayor Scott Walker present.
Also present were: Borough Manager Michele A. Enos, Director of Finance Brett B. Peters; Chief of Police, Randy Cox; Solicitor John J. Dirienzo, Jr.; Consulting Engineer Tom Reilly; Director of Public Works, George Svirsko, and Assistant Manager Josh Summits.
Approval of November 23, 2015 Meeting Minutes
            Sue Opp moved; Gary Thomas seconded approval of the previous November 23, 2015 meeting minutes.
Motion Unanimously Carried.
Opening of Bids – Garage Roof Replacement
            Ms.  Enos reported that seven bids were received, and that they recommend award to the lowest responsive bidder, Blair Roofing, Hollidaysburg, PA, in the amount of $162,900.00.    Garage doors will be part of the project, but was not part of the bid.
Motion
            Mr. Thomas moved; seconded by Mrs. Opp, to award the bid to the lowest responsive bidder, Blair Roofing, in the amount of $162,900.00. 
Motion Unanimously Carried.
General Public Comments
            (a) Mr. Ron Yoder, 302 South Franklin Avenue, expressed his concerns with various issues.  A neighbor has been selling cars from this property; increasing the size of his garage, etc.
He and his neighbors use the adjoining alley and have difficulty exiting the area because of the vehicles being parked in his yard.
He asked if our Inspector can examine the area since it causes problems on his property. He pointed out code book regulations that he believes are not being adhered to, along with various other concerns.
Ms. Enos explained that we can address the garbage issue, but unlicensed vehicles would be transferred to our Police Department for enforcement.  Mr. Dirienzo pointed out that just because this alley shows up on a plan of lots; it does not become a Borough responsibility.  He advised consulting with private counsel about this.
            Concerning the question regarding uninspected vehicles, Chief Cox explained that the problem becomes those parked out of view; it is unlawful to enter private property.  The issue of garbage, and use of private alleys, is not within their jurisdiction, but he advised calling the Police Department for anything regarding vehicle inspections, operating order, registration, etc.
            A lengthy discussion then ensued concerning vehicle parking areas – vision clearances, obstructions, abandoned vehicles, etc., along with public roadway/private alley regulations, property zonings, building permit requirements.
            (b) Sean Garrigan, 426 West Main, presented his concerns about a nearby property on West Main Street with construction trailers stored here, along with idling trucks during snow periods, contributing to dropping rental property values. 
            Attorney Dirienzo stated that the owner in this case is not asserting any ownership interest in this property and the bank containing the mortgage has not done anything. 
Administrative Business
(a)  Communications:  (none received.)

(b)  Payment of Bills:
Motion

Mr. Thomas moved to pay the following bills; motion seconded by Mrs. Opp:
            Check Numbers 26852 to 27014        Total Amount: $346,803.27
                                                                                                Motion Unanimously Carried.
Policy Agenda
Old Business – (None)
New Business
(a) Resolution No. 2015-09
              
            Ms. Enos clarified this is a Resolution permitting the elimination of contributions from Police Officers to the Police Pension Plan. Our Actuary provides this letter each year, as to whether or not there is a need to institute contributions from Police Officers to their pension plan. It is recommended that the Police Pension Plan contributions be eliminated for Year 2016.
Motion
            Mr. Rosemeyer moved, Mrs. Opp seconded, to adopt the following Resolution:
Resolution No. 2015-09
WHEREAS, Ordinance No. 1144, Section XI relating to the Police Pension Fund states that the monthly contributions for participants may be reduced or eliminated by an annual Resolution if an actuarial study annually indicates that such reductions or elimination for that year will not adversely affect the actuarial soundness of the fund, and;

            WHEREAS, a letter dated December 12th 2015 from John S. Mincin, E.A., F.C.A.,  M.A.A.A.,., M.S.P.A. Consulting Actuary, Dunbar, Bender & Zapf, Inc., states "that the Borough may eliminate employee contributions in the Police Plan for 2016 …

NOW THEREFORE, BE IT RESOLVED, that the five (5) percent contributions from Police Officers for the year 2016 be eliminated. 

            ADOPTED this 28th day of December 2015.
                                                                                                Motion Unanimously Carried.
(b) Tax Rate Ordinance
            Ms. Enos presented the following Tax Rate Ordinance, containing no tax increase for the year 2016.
Ordinance No. 1369.
AN ORDINANCE OF THE BOROUGH OF SOMERSET, COUNTY OF SOMERSET, COMMONWEALTH OF PA, FIXING THE TAX RATE FOR THE YEAR 2016

            BE IT ORDAINED AND ENACTED, and it is hereby ordained and enacted by the Borough Council of the Borough of Somerset, County of Somerset, Commonwealth of Pennsylvania:

            SECTION 1.  That a tax be and the same is hereby levied on all real property within the Borough of Somerset, subject to taxation for the fiscal year 2016 as follows:
            Tax Rate for General Purposes, the sum of 13.79 on each dollar of assessed valuation.
            For Mary S. Biesecker Public Library purposes, the sum of .666 mills on each dollar of assessed valuation.
            For Somerset Volunteer Fire Department purposes, the sum of .444 mills on each dollar of assessed valuation.
            The same being summarized in tabular form as follows:
MILLS ON EACH DOLLAR OF ASSESSED VALUATION

Tax Rate for General Purposes                               13.79    Mills

Tax Rate for Mary S. Biesecker                                   .666  Mills
Public Library purposes

Tax Rate for Somerset Volunteer                                .444  Mills                                  
Fire Department Purposes                                        
TOTAL:                14.9      Mills

      SECTION 2. That any ordinance, or part of ordinance conflicting with this ordinance, be and the same is hereby repealed insofar as the same affects this ordinance.

                                                                        Adopted this 28th day of December, 2015
            Mrs. Opp moved, Mr. Rosemeyer seconded to adopt the Year 2016 Tax Rate Ordinance.
                                                                                                Motion Unanimously Carried.
(c) Act 511 Taxes
            The following taxes were read, for Year 2016:
Earned Income Tax - ½%
Real Estate Transfer Tax - ½%
Local Services Tax - $47.00
Mercantile Business Privilege Tax – ½ Mill
            Mrs. Enos said this also contains the same amounts as last year, with no increase proposed for Year 2016.
Motion

Mr. Shaulis moved to accept the Year 2016 Tax Rates, motion seconded by Mrs. Opp.
                                                                                                Motion Unanimously Carried.
(d) Year 2016 Final Budgets
            Ms. Enos presented the final adoption of all Budgets - General, Water, Sewer, Special Revenue and Capital Project Funds, with no rate or tax increases for Year 2016 - same as adopted last month as a Tentative Budget, with no changes proposed.
Motion
            Moved by Mr. Rosemeyer; seconded by Mrs. Opp to adopt the final Year 2016 Budgets.
                                                                                               
Motion Unanimously Carried. 
(e) Appointments Reappointments to various Boards/Commissions
            Mrs. Enos presented the following list of Boards /Commissions members whose terms are expiring:
Motion
            Mr. Rosemeyer moved to appoint Ruby Miller to a five-year term on the Municipal Authority of the Borough of Somerset.  Motion seconded by Gary Thomas.
                                                                                                Motion Unanimously Carried.
Motion

Steve Shaulis moved, Fred Rosemeyer seconded, to re-appoint Sean Isgan and George Schenck, Jr. to 4-year terms on the Borough of Somerset Planning Commission.
                                                                                                Motion Unanimously Carried.
Motion
            Gary Thomas moved, seconded by Steve Shaulis, to appoint Brian Maust to the Zoning Hearing Board.
Motion Unanimously Carried.
Motion
            Fred Rosemeyer moved, Gary Thomas seconded to re-appoint Stuart Kreinbrook to a 5-year term on the Borough of Somerset Civil Service Commission.
                                                                                                Motion Unanimously Carried.
Motion
            Steve Shaulis moved to re-appoint Delmas Hutzel to a 1-year term on the Borough of Somerset Vacancy Board – motion seconded by Fred Rosemeyer.

Motion Unanimously Carried.
(f) Ratification of Tentative Agreement
            Mrs. Opp moved, Fred Rosemeyer seconded, to ratify the Tentative Agreement between the Borough and AFSCME Union for a 4-year Contract covering the years 2016-2019.
Motion Unanimously Carried.
(g) Fire Department Monthly Rent
            Mr. Thomas said the Fire Department has requested that its rent be reduced by $100 per month each year until the monthly rent amount reaches $1,000.  Mrs. Miller expressed her concern as to whether this amount would cover the water/electricity used, and if this could be done this year.
Mr. Dirienzo said we can do this all now, but must be certain that each year reflects it in the budget. It was agreed that this could be arranged in one motion, with the Solicitor's approval.
Motion

Mr. Rosemeyer moved to go with reducing the Fire Departments rent by $100 per month over the next four years, until we reach the monthly rent amount of $1,000.00.  Motion seconded by Mrs. Opp.
                                                                                                Motion Unanimously Carried.
Committee, Administration, Special Reports
Manager's Report
Ms. Enos reported the following:
            On December 8th she and Mr. Summits attended the second and final Public Hearing for the use of our CDBG monies for the years 2015 and 2016.
She attended the Open House for Somerset Hospital's new E.M. room.
We received a letter from PennDOT advising area municipalities that they will meet on January 6, 2016, with the State of Maryland and the Federal Highway Administration regarding extension of Route 219 from Maryland to Meyersdale.
The Chamber of Commerce is sponsoring an "Eggs & Issues" Breakfast with the Somerset County Commissioners on Friday, January 15, 2016 at the Country Club, 7:30 p.m.
On December 9th she met with Tom Reilly and the Somerset Township Supervisors to discuss the ordinance which governs sewage discharge for industrial users. The EPA is requiring the Borough and Township to adopt this regulation.
The Fire & Ice Festival is scheduled for January 15th through 17th. 
Next Monday we will meet for an Organizational Meeting, with "swearing-in" held at 6:30 p.m.  If done at the Court House we ask you to bring your Oath of Office so it can be filed in our office, otherwise the Mayor can do this here next Monday.
President's Report
            Concerning the proposed Lions Club Memorandum of Understanding addressing the Union Street Playground issue, President Miller mentioned that the Solicitor said several changes have not yet been reviewed. 
Ownership will remain with their building but if they dissolve, it remains with the Borough.
Mrs. Miller thanked all for a well-attended Christmas luncheon by the Pine Grill.
Nothing further was heard from the Carbose Plant.
Mrs. Enos reported that the waterline construction along the Gilmore By-Pass is completed.
Mrs. Miller reported a street light problem at the 200 block of Colby Avenue. Mr. Svirsko said this was reported last week.  Another report received is of a faded two-hour parking sign at West Union Street. 
Engineer's Report
            Tom Reilly stated that they are working on contract documents, plans to advertise in January - with bid opening in February.  This is for the Computer Control System for the Bakersville water system that connects all other water treatment facilities.
They are working on the financing application for the Hickory Hill Storage Tank project.  This application is due in February and we will meet this deadline if the DEP Permits are received.
In answer to question of whether the tank will be ready in year 2016, he said they hope to advertise, bid, and begin construction in year 2016.  The schedule that we provided to the Borough indicates construction completion in August of year 2017.  With financing approval prior to bidding, we would close on financing in July and begin construction by August, 2016.
Public Works/Equipment Committee
Mr. Thomas reports that we did not have a meeting this month because of the holidays.
Mr. Svirsko said they repaired a number of inlets throughout town, with pothole patching, and were able to run the sweeper in December.

Public Safety Committee
            Mr. Rosemeyer reported that they met with the Chief, Mayor, Mr. Thomas, and Mrs. Pyle to discuss the cameras for the Police Department.  These cameras will be either body cameras or those for in Police vehicles.
We discussed the new County-wide Radio 911 System.  We appreciate the County Commissioners taking on this project.

Finance Committee
            Mr. Rosemeyer gave the following Year-to-Date Financial Report.  The Report is for revenues and expenditure through November 2015, which is the 91.67% point of the year.
            General Fund:

            Revenues: 98.34%
Expenses: 92.60%

            Water Fund:

Revenues: 108.7% (with the loan proceeds) – 104.66% (without loan proceeds)
Expenses: 103.5%

            Sewer Fund:

Revenues: 121.36% (with bond proceeds)
Expenses: 108.17% (with capital improvements)
            He thanked Mr. Peters, Ms. Enos and Mr. Vinzani for their help in staying within the Budget and expressed hope to continue this trend.
Somerset Inc.
            No report.
Somerset Volunteer Fire Department
            Gary Thomas reported approximately 30 calls each month since October.  Fire Department Calendars are still being sold.
New Fire Department Officers were elected.  The new Fire Chief, Mike Livengood, will be sworn in to office on January 9, 2016.
Solicitor's Report
            Mr. Dirienzo: no report.
  Mayor's Report

Mr. Walker advised that the Mayor and Council should be aware of confusion uptown regarding our giveback to this area in the form of free parking, from Light-up Night to first of the year.  People plug the meters non-stop, with no idea when it begins/ends.  This is creating problems since we are still sending Mr. Hauger out to attend the meters, and we need to find a way to get the word out to avoid this confusion for next year.
Mr. Cox added that some other communities use a small card type notice on the meters stating that there is free parking for the holiday season or special events.

Executive Session
            Council entered into an Executive Session at 8:30 p.m. for the purpose of discussing Personnel Matters. Executive Session ended at 9:15 pm.
Regular meeting re-convened at 9:15 pm.
Mr. Rosemeyer moved to grant a 3% (three percent) wage increase to members of the Borough's Management Team. Borough Manager Enos is volunteering to forgo her 3% (three percent) raise and Director of Finance Brett Peters will receive a 6% (six percent) salary increase. Motion seconded by Mr. Shaulis.
Motion Unanimously Carried.
Adjournment
            Meeting was adjourned at 9:17 pm.
________________________
Michele Enos
Borough Manager/Secretary