The Uptown Somerset Historical District is located near the geographic center of Somerset Borough, and is listed in the National Register of Historical Places. The Historic District includes most of the county government buildings, with the courthouse as the centerpiece. The District reflects a variety of architectural styles from primarily the mid-nineteenth century to the early twentieth century, such as:
Italianate
Vernacular
Craftsmanship
Colonial Revival
Classical Revival
Queen Anne
Bungalow
Although the commercial area of the historic exhibits the usual modem updating of the first floor facades, the upper storied retain the physical characteristics of their historic periods. The Uptown Somerset Historic District retains the integrity of design, settings, materials, workmanship, feeling, and association of a mid-nineteenth century to early twentieth century commercial and government center. Most buildings in the uptown Somerset Historical District were constructed after the fire of 1876 which destroyed most of the commercial section and many residences south of Union St. The oldest buildings in the district, dating from the first half of the 19th century, are located along Union St. and East Main St. and are primarily residential.
The Historic District centers on the intersection of Union St. and North Center Ave. This intersection contains three of the most architecturally significant buildings in Somerset:
Former Somerset Trust Company
Former First National Bank
Somerset County Courthouse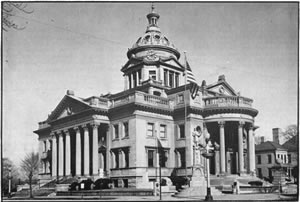 Three Courthouses, completed in the years 1801, 1853, and 1907, have stood on the elevated site deeded to Somerset County by Adam Schneider in 1795. The present Courthouse was constructed in 1904-06 by the firm of Caldwell and Drake of Columbus, Indiana, following plans prepared by J.C. Fulton, architect from Uniontown, Pennsylvania. Prominent in the skyline of the Borough of Somerset, this exemplary structure stands at 2190 feet above sea level - the greatest altitude among courthouses in Pennsylvania.
The elegant and permanent form of the Somerset County Courthouse illustrates the vision of the architect and the craftsmanship of the builder. The heavy sand stone foundations bears a structure which rises through decorative marble, bronze, and walnut to a bright and spacious stained glass dome, surmounted with a weathervane in tune with the lightest breeze.
The progression from solidarity to flexibility - from earth to sky - complements the location of the Courthouse atop the Alleghenies and preserves an appropriate atmosphere for judicial activity which rests in a firm Constitution and responds to the varying elements of human circumstances. The architectural features - the Grand Staircase, The quietly dignified courtrooms, the column porticoes and balustrades, and the safely domed tower - distinguish the material of the Courthouse and combine elegance with permanence, bringing life to the form.
Based on it's historical, geographical, and architectural prominence, the Somerset County Courthouse is the first site to be recorded on the Somerset County Register of Historic Sites. This landmark is also listed on the Pennsylvania Inventory of Historic Sites, and in 1980, it was named to the National Register of Historic Places.